by Celia Sin-Tien Cheng
November 11, 2010
GNOCCHI DE PATATE AL BURRO
142 W 65th St
(Broadway & Amsterdam Ave)
New York, NY 10023
212-359-6500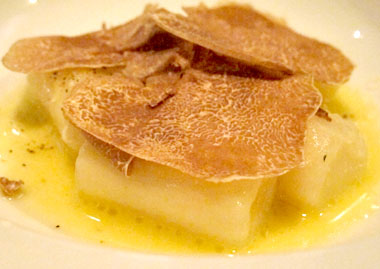 Celia Cheng
At Lincoln, the new restaurant in Lincoln Center, Chef Jonathan Benno's performance of precise culinary artistry befits the restaurant's location; its open kitchen is another theatre on the Lincoln Center campus. Lincoln is the restaurant that Lincoln Center has always longed for — and the most elegant and beautiful dining space in Manhattan.
Meals begin with an array of wonderful breads by Pastry Chef Richard Capizzi: grissini infused with chili flakes and dried oregano; two types of thin, crisp cracker-like flat breads, carta da musica with olive oil, parsley, thyme, oregano and white sesame seeds; and, my favorite, schiacciata brushed with melted pork fat and Parmesan. And it doesn't stop there: Parmesan crisps are then presented with a choice of three different types of breads — focaccia, toscano and sesame semolina. The latter two are made by Il Fornaretto. The focaccia, homemade, is moist and the most delicious.
On my second visit, I sat at the bar, with a direct view of Chef Benno at work. Orders for the burrata starter came in all night long; it's clearly the most popular antipasti. The burrata is served with squash, walnuts and watercress. The sweetness of the squash, a lovely fall essence, paired with the smooth and creamy burrata and accents of watercress, was a pleasurable way to start the meal. Another popular dish, the branzino tartar, was beautifully presented, but mild in flavor compared to Chef Benno's other combinations of flavor profiles. Formerly the sous chef at Per Se, Chef Benno incorporates meticulous French-American techniques into his interpretation of contemporary Italian cuisine.
As a pasta fanatic, there's nothing I look forward to more on an Italian menu. The cavatelli con vongole with razor clams, shishito peppers and lemon thyme was a highlight. The short and cylindrical hollow rounds of cavatelli are not only fun, but also great for capturing broth. And while I rarely see shishito peppers outside of Japanese cuisine, this is a great use of the pepper, as it's not too spicy and provides a hint of earthy aroma. For a slightly heartier pasta, the strozzapreti — another tubular pasta, similar to cavatelli with honeycomb tripe, San Marzano tomatoes, and herbed breadcrumbs — is comfort food ideal for cold weather.
But the knockout dish on both of my trips to Lincoln was the gnocchi! On my first visit, I enjoyed the potato gnocchi with lobster in a veal/lobster jus and white truffle. Chef Benno's gnocchi don't just melt in your mouth, they disintegrate, much more like potato than pasta on the palate. Neither dense nor fluffy, the gnocchi are just perfect tender morsels. On my second visit, I had the small plate of potato gnocchi in butter, with white truffle shavings (the white truffle was an addition and not on the menu) that simply blew me away! Such simple ingredients, yet the aromas, textures, flavors and presentation were in perfect balance. This dish is pure ecstasy!
For small plates, in addition to the gnocchi, the broccoli spigarello is noteworthy. It's a variety of broccoli, with a peppery kick like broccoli rabe, but with sweet undertones. The seed was brought in by Chef Michael White and grown by Rick Bishop of Mountain Sweet Berry Farm. Sautéed in olive oil, this small tender and leafy vegetable seems more like a Chinese sautéed green than an Italian broccoli side dish.
While I loved Chef Capizzi's breads, the desserts didn't all work for me. The Concord grape, granny smith apple and clementine sorbets were all too sweet. But I did enjoy the ricotta cheese torte — a sliver of creamy ricotta cheesecake with toasted walnut gelato and pumpkin bread.
Lincoln also recently started serving a seven-course tasting menu for $120. It's a good deal considering the prices on the à la carte menu. The menu changes daily.
There's no doubt that Lincoln is an exceptional fine dining restaurant, but I would also gladly stop by any day for drinks and a light-bite at the bar. Both Chef Benno's cuisine and the restaurant's architecture/décor are stunning. A glass pavilion on 65th Street, the restaurant has open views of the reflecting pool and Metropolitan Opera House on one side, and the Juilliard School on the other. I just can't get enough of the atmosphere, of the fabulous work going on in the kitchen and the surrounding views.