by Celia Sin-Tien Cheng
April 30, 2008
There are some things we just can't live without, and for many, coffee is at the top of that list. An important commodity in our everyday lives, its prevalence seems only second to water. From large corporations like Starbucks, McDonald's and Dunkin' Donuts, to stand-alone artisanal shops, New York's coffee business is thriving. So this month, our feature on coffee includes food cravings that incorporate our favorite addiction and a short list of coffee shops.
WALLSÉ
Viennese Mélange Sabayon
espresso sabayon w/ coffee ice cream and almond whipped cream
($12)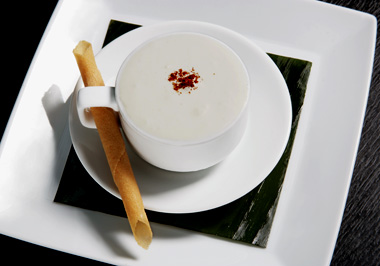 The Viennese Mélange Sabayon looks deceptively like a regular cappuccino, but it's really a multi-layered frozen treat. At the bottom is a layer of espresso sabayon, with two scoops of coffee ice cream in the middle, topped with a frothy layer of almond whipped cream. The consistencies of all three layers meld into one another — creamy, refreshing and smooth — and they must all be tasted together for the full effect. The almond whipped cream holds its weight by adding subtle nutty flavor and cuts the edge of its richer coffee counterparts. It's extremely light, bouncy and perfectly balanced. Wallsé pastry chef Matthew Lodes once again blows me away with this new creation.
CAFÉ BOULUD
Coffee Opera Cake
w/ chocolate ice cream
($14)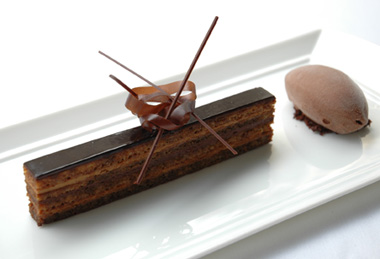 Raphael Haasz, Café Boulud's pastry chef, insists that his coffee opera cake is traditional, but the delicate details as well as the pairing of chocolate ice cream with crumble make this one stand out. Made with two layers of Jaconde biscuit (a sponge cake baked in thin layers with almond flour, nuts and whipped egg white), it's then topped with coffee buttercream, a layer of bittersweet chocolate ganache, and dark chocolate glaze. Chef Haasz explains that the secret to why it tastes so good is that he soaks the Jaconde biscuit in about four and a half pounds of coffee syrup, which explains its potency, too! Decorated with a chocolate phyllo dough ribbon and chocolate sticks, the opera cake is served with Guanaja (a high grade bitter dark valrhona chocolate from South America made of 70% cocoa) ice cream atop chocolate crumble. The cake is rich and spongy, the ice cream refreshing and the crumble crunchy. Combined, it's coffee-chocolate heaven.
THE RED CAT
Grilled Double-Cut Pork Chop
w/ wilted romaine, dates, feta, gigantes and pumpkin seed pesto
($23)
There's no mention of coffee where this dish is listed on The Red Cat menu, but you can't miss it in the earthy aroma and juicy flavor of this pork chop that's marinated in ground coffee and brown sugar for a few days before it's chargrilled. The double-cut chop is so popular that executive chef Bill McDaniel sometimes keeps it on the menu longer than it's usual run. Cooking pork chops is a challenge as they can often be too dry, so the coffee helps to bring out the succulence. And succulent it is. When cut into it, the juices ooze out. And the subtle coffee flavor is found both in the meat as well as from the charred grounds. The chop is served on a bed of wilted romaine with dates, feta, giant Greek white beans, and pumpkin seed pesto. The sweetness of the dates balances the feta, and the pumpkin seeds give a little earthiness to the fresh greens. This is a savory coffee dish that you won't want to miss.
MARTINE'S CHOCOLATES
Heart
cappuccino bonbon, filled with layers of coffee-flavored ganache & whipped cream ($2.75)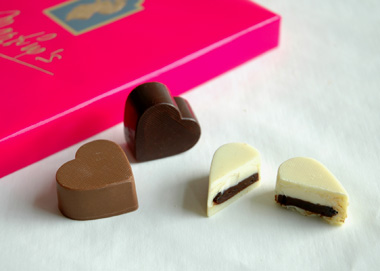 Every time I try one of chocolatier chocolates, I fall in love all over again. Thus, the heart shape of these cappuccino bonbons is highly appropriate. Layers of coffee-flavored ganache are topped with another layer of whipped cream in a dark, milk or white chocolate couveture. The smooth rich texture of the ganache and cream is a pure delight. As Cristy-Lucie likes to say, "It's like velvet in my mouth."
FALAI
Tiramisu
($10)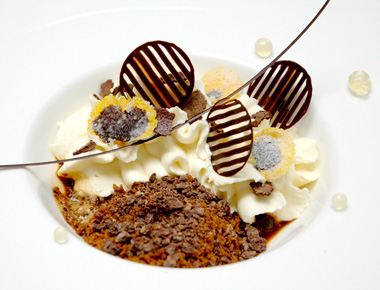 Iacopo Falai's tiramisu breaks the tired convention of this ubiquitous Italian dessert. It's a deconstructed version that lays all the ingredients on a plate with espresso poured over, allowing the diner to play and decide what components to eat at the desired proportion. It makes dining fun again in a thought-provoking way. English cream with mascarpone, coco butter, 55% cacao dark chocolate, dehydrated coco powder and a light coffee biscuit make up this delicious medley. Chef Falai takes his artistry very seriously, with details like crystallized pansy petals and spinetta jelly that also emphasize the decorative element and complete the work of art.
CRAFTSTEAK
Cinnamon Doughnuts
w/ coffee granita & espresso chantilly
($12)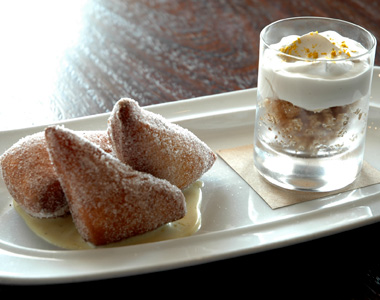 At Craftsteak pastry chef Erica Leahy serves cinnamon doughnuts with coffee Granita and espresso chantilly. This is quite the grand finale to a steak dinner. It's hard to resist doughnuts, especially when they are powdered with cinnamon and sugar, and they are even more irresistible when served over a crème anglaise with the delicate flavors of orange, cinnamon, cardamom and Tahitian vanilla infused in the custard. No need to order after-dinner coffee, as the doughnuts are accompanied by a side of coffee granita and espresso cream with a dusting of dried orange on top. The coffee flavor in both the granita and the chantilly is strong enough to match up to the hearty prior meat course but lightens it with a sweet touch.
NORTH SQUARE
Coffee Panna Cotta
w/ chocolate-covered espresso beans and candied corn flakes
($8)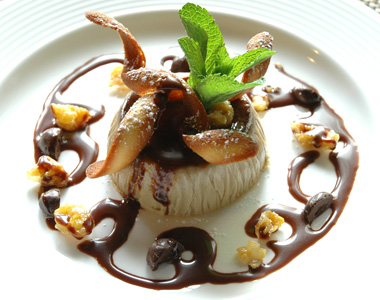 The coffee panna cotta at North Square is a fun mix of textures: the perfectly soft coffee pudding, the smooth chocolate coating of the espresso beans, and the slightly muffled crunch of caramel-covered corn flakes. Pastry chef Pat Coston has concocted a dessert that takes its cue from breakfast: coffee and corn flakes. Who would have thought? But it works. The subtle coffee flavor gives the panna cotta more personality, and the corn flakes are addictive. If you don't mind a double strength caffeine buzz, this dessert would actually go well with a cup of coffee.
by Celia Sin-Tien Cheng
April 30, 2008
Coffee, like the coffee shops we frequent, is a matter of personal taste. So each of us has a special relationship with our favorite joint. While the City has too many to cover extensively, we decided to do a small overview of some of our favorites, which happen to be mostly in the East Village (with some cross over to the West Village, NoLIta and Park Slope). We'd love to hear about your love for coffee and your favorite spot, so write in to tell us more!
Joe the Art of Coffee
141 Waverly Pl
(Gay St & 6th Ave)
New York, NY 10014
212-924-6750
map
9 E 13th St
(5th Ave & University Pl)
New York, NY 10003
212-924-7400
map
405 W 23rd St
@ 9th Ave
New York, NY 10011
212-206-0669
map
Grand Central Terminal
New York, NY 10017
212-661-8580
map
514 Columbus Avenue
@ 85th St
New York, NY 10024
212-875-0100
map
Joe is your quintessential neighborhood coffee shop with quality coffee, hip baristas, and a modern but relaxing atmosphere. It's the closest thing to a Seattle/Portland coffeehouse in this city. Owner 's philosophy on building community and the art of coffee has built up such a following that, lucky for us, there are now four Joe's, including the recently opened Chelsea store. And look out commuters because there's one opening at Grand Central, too!
Jack's Stir Brew Coffee
138 W 10th St
(Greenwich Ave & Waverly Pl)
New York, NY 10014
212-929-0821
map
Jack's coffee has become a West Village mainstay though it only opened a couple of years ago. The organic, fair trade coffee boasts some of the smoothest, richest and most balanced flavors one can find. This cozy spot makes you feel like you are at home in front of a warm fire. The small West Village shop with exposed brick walls serves killer baked goods, too. And there's live music on Tuesdays and 16mm movie showings on Thursdays.
Abraço
86 E 7th St
@ 1st Ave
New York, NY 10003
212-388-9731
map
Abraço, Portuguese for hug, is a truly unique coffee bar. Opened only last year, this East Village spot is tiny and cozy. It's hard to image that they have a kitchen behind the coffee counter in a space so small it barely fits its barista and chef. But daily lunch specials, and interesting baked goods like olive oil pound cake, in addition to the coffee (named Best Cup of Coffee 2008 by New York Magazine), definitely entice you to eat in, standing, with little room to move while chatting with the barista. But Abraço, like a hug, makes you feel special. It's a quirky and very warm place.
Everyman Espresso
136 E 13th St
(3rd & 4th Ave)
New York, NY 10003
map
Everyman Espresso is a slow paced coffee shop with plenty to offer. Their outdoor sign reads "fast food coffee is trashy," and they provide just the opposite with their rich velvety espresso. The sun-drenched space is shared with a small theater (Classic Stage Company), and yet it's still spacious and quiet — the ideal spot for reading your morning paper.
Ninth Street Espresso
700 E 9th St
@ Ave C
New York, NY 10009
212-358-9225
map
75 9th Ave
(15th & 16th St)
New York, NY 10001
212-228-2930
map
Ninth Street Espresso brings award-winning coffee to Alphabet City. Voted one of America's best boutique coffees by Forbes.com, they believe in brewing only espresso and French press. The simple space provides a good work atmosphere for traveling laptops, or if you've got some leisure time, enjoy the front porch.
Gimme Coffee
228 Mott St
(Prince & Spring St)
New York, NY 10012
212-226-4011
map
495 Lorimer St
(Powers & Grand St)
Brooklyn, NY 11211
718-388-7771
map
Gimme, originally from upstate New York, recently opened a new store in NoLIta, and though it's just a sliver of a storefront, the baristas are churning out topnotch coffee, which is why there's always a line. Gimme's brand image has cache, it's modern and hip, and it makes you want to be part of the Gimme crowd. Good coffee and cool image, what's not to love?
Gorilla Café
97 5th Ave
@ Park Pl
Brooklyn, NY 11217
718-230-3244
map
Gorilla prides itself on its fresh, robust coffee. Their organic beans are roasted in small batches right in Brooklyn, and they're not kidding when they say it's "not wimpy." Stay and join the rows of laptop users who set up shop across the red tabletops, or just get your mean cup of coffee to go. Nothing beats strolling through Park Slope on a sunny day with a coffee in hand.
Mud
307 E 9th St
(1st & 2nd Ave)
New York, NY 10003
212-228-9074
map
Mud encapsulates the hip and earthy vibe of the East Village by providing coffee, music, and an all-day hang out. Their coffee brings a line out the door, but it's not all about the mud. Take a seat inside or in the enclosed backyard; their food menu has a southwestern feel, and beer and wine will keep you around until dark. There's also MudTrucks at Astor Place and Sheridan Square if you need a cup of joe on the go.
The Grey Dog's Coffee
33 Carmine St
(Bedford & Bleecker St)
New York, NY 10014
212-462-0041
map
90 University Place
(11th & 12th St)
New York, NY 10003
212-414-4739
map
Grey Dog's brings a hometown country feel to the West Village with simple food, friendly service, and good coffee. The ideal place for your daily cup or for an informal date, Grey Dog's menu consists of salads, sandwiches, sweet pies and wine or draught beer. Service is casual; order at the counter, take a seat, and wait for your name to be called. (A second location opened on University Place last year.)
by Celia Sin-Tien Cheng
April 30, 2008
All food photography for the coffee issue were taken by Shida Kuo, except for the Viennese Mélange Sabayon, which was provided by Wallsé.