by Mort Hochstein
June 27, 2007
I've always had a liking for Moulin-à-Vent, the muscular big brother of the Beaujolais wines. Gamay, the grape of Beaujolais, is underrated, making wines from this region particularly good buys, and Moulin is usually the top-of-the-line.
Moulin-à-Vent is one of Beaujolais' ten sibling crus — the French term for growths — which take their names from the villages where they are produced. They range from the lighter Brouilly, Regnié and Chiroubles to the fuller Morgon, Juliénas, Chénas and Moulin-à-Vent, with Côte de Brouilly, Fleurie and St-Amour falling somewhere in the middle.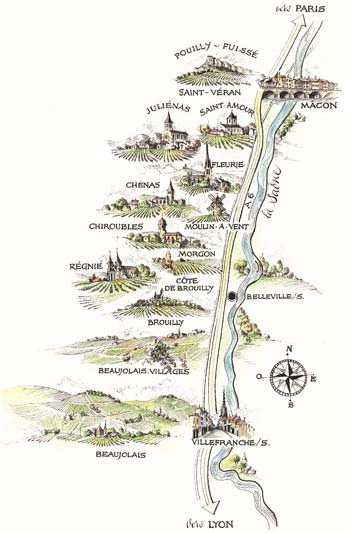 In France, there is a misconception that Beaujolais necessarily implies cheap red wine, so that term is seldom found on labels for these growths. Those that come to the U.S. do declare themselves Beaujolais, but always in small type. Georges Duboeuf, who made Beaujolais Nouveau a household name here with his Hollywood-scale promotions, is one of the major producers of the growths of Beaujolais.
Most of us are only familiar with Beaujolais Nouveau, which is a young wine, bottled soon — perhaps too soon — after the harvest for an early return on investment. It is sourced from any number of vineyards, while the Beaujolais growths, or crus, come from more prestigious sites with unique identities, just as Bordeaux identifies its wines by region and château, i.e. Graves and Château Haut-Brion.
While visiting the Loire a few years ago, I participated in an informal blind tasting, competing with half-a-dozen partying locals to identify a variety of brown-bagged wines. No one identified it in the first round, but on the second shot I knew immediately that one of the mystery red wines was a Moulin-à-Vent. Shortly before heading to France I had sampled a rather poor version and though the wine in the Loire that night was quite good, I recognized it immediately. If I'd had an American flag, I would have waved it. Thus, when I was recently invited to a vertical tasting of Moulin-à-Vent hosted by Georges Duboeuf, I went with great anticipation and was rewarded with a baker's dozen wines ranging from the recent 2005 to a trio of wonders from the 1995, 1996 and 1998 vintages, several in magnums.
The wines of Moulin-à-Vent are distinguished by their ripe fruit, structure, power, and deep, dark color. They are usually priced about 30% higher than the other growths. One of the most celebrated Moulin vineyards is the Domaine de la Tour du Bief, and the reasons for its high regard were apparent in the '98 magnum. It was a big, dark monster, surprisingly lush, well-balanced, and almost Burgundian on the palate. This was my favorite, along with a '95 from Domaine des Rosiers, also in magnum, ripe with sweet red fruit tones and scents of strawberry and raspberry later showing cocoa and liquorice.
I might add here that the crus Beaujolais can be made either by the traditional method, or by the semi-carbonic maceration method, in which the grapes are hand picked in whole clusters, put into a temperature-controlled tank so that those at the bottom of the heap start to break and ferment naturally, causing the entire batch to ferment. Cru Beaujolais produced traditionally, will have more ageing potential. They might not have the long life expectancy of Pinot- or Cabernet-based wines, but they will often profit from a few years of maturity, as seen in my tasting experiences above.
Also in magnum, and quite accessible, were wines created for the Duboeuf Prestige label, which brings together grapes from several top regional vineyards. We tasted Prestige in magnums from 2001 through 2003 and in standard-sized 750ml bottles from 2005, the most recent vintage then available. All showed a consistent elegance, although I preferred the older bottlings, where maturity had tempered the youthful fruit and spice aromas with scents of truffle and venison.
There is a consistent character to the cru Beaujolais, whether it is the basic Duboeuf Flower label, those that take their names from their places of origin, the Fût de Chêne (meaning "aged in oak") collection, or the high-end Prestige selection. The nose is almost always appealing, the fruit is present, the wines are full-bodied though not voluptuous, and they are easy on the palate. On anyone's table, they make a nice contrast to more expensive Bordeaux and Burgundy, and demonstrate the host's wine knowledge and ability to go beyond the predictable.
Here are some tasting notes on several other memorable Moulin-à-Vents that were not included in the vertical tasting. I would recommend the most recent vintage for all of these wines:
Louis Jadot Château des Jacques: Bright garnet-ruby color with cherry, plum, clove and juniper berry aromas, medium-bodied with ripe fruit and well-integrated oak, soft tannins and well-balanced acids.
Potel-Aviron Moulin-à-Vent Vieilles Vignes: An elegant, deep-purple colored wine with strong notes of cherry, raspberry and blueberry, spice-laden with hints of orange and chocolate on the palate and a memorable finish. It should get better several years down the road, but even now it is on par with Burgundies of the same price.
Mommessin Réserve du Domaine de Champ de Cour: Flowers, red berries, and black cherries on the nose, medium bodied with delightful spice overtones and a long slightly tannic finish, this wine has lots of fruit and many good years ahead of it.
Domaine Bernard Diochon Vieilles Vignes: Deep red-cherry colors and scents of ripe cherries and red berries, lighter than most of its group with crisp cherry and citrus flavors on the palate. Good for sipping alone, and also a good match for sausages, french-fries and similar pub food.