by Cynthia Sin-Yi Cheng
February 22, 2006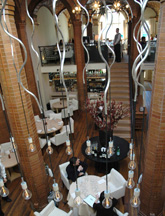 Gaia
253 Greenwich Ave
Greenwich, CT
203-661-3443
What's in a wine list? Everything. At any restaurant it is the first thing I ask for. With an initial glance over the wine-by-the-glass section, immediately, I get an inkling of the list maker's intention and integrity. Whether there is a neat line-up of just five selections or a wider offering of twenty, I will already have a sense of whether the list will be well thought out and consumer-budget conscious. Think about it: The obvious no hassle thing to do would be a compilation of easily recognizable names. The job is done, the mark-up is profitable and the list will sell itself. A supposed no-brainer that makes me cringe.
Happily, for every bad list out there, somewhere, a trooper wine director is turning out commendable work. Recently I had the pleasure of meeting just one such dedicated man.
On a remarkably radiant winter afternoon I drove out to Gaia in Greenwich, Connecticut to visit its wine director, Olivier Flosse, for a tour of his cellar and a tasting of his entire wine-by-the-glass list. Sitting in the intimate, vaulted tiled-ceiling dining room of this charming restaurant, Olivier first walked me through his whole list. He and I had already had several conversations about wine and especially the philosophy behind his list, but once we started tasting the wines, everything just came together. Passion and knowledge are things people can brag about but when put to the test are hard to fake.
The noteworthy by-the-glass selection is the introduction to an expansive eighty-page wine book, which Olivier doubled in less than a year from eight hundred to the present one thousand six hundred offerings. Right away, it was recognized by Wine Spectator as a recipient of the Best of Award of Excellence in 2005. Trained under Jean-Luc Le Dû, chef sommelier par excellence formerly of Daniel restaurant, Olivier came to Gaia directly from his previous position as wine director of Café Boulud. Gaia's voluminous wine list is definitely impressive, but what stands out is the diversity in selection and price point — the essence of Olivier's personal vision.
Diversity is key. A well-thought-out list will appeal to the wine aficionado as well as an amateur. Gaia's list does just that. There is geographical diversity covering the Old World, with classic Bordeaux first growths to versatile Austrian Rieslings, alongside New World samplings from India to Long Island. For Olivier, the most important test of standard is QPR (Quality-Price Ratio). It isn't enough just to say that the list includes wines from lesser-known wine regions such as India and Brazil if the wines cannot stand against other well-made wines from around the globe in the same price range.
Compiling a wine list in Greenwich made things a bit tricky, as Connecticut's liquor laws do not allow restaurants to buy wines from auctions or private sellers. This made Olivier's job of creating verticals of older Bordeaux and Burgundy wines a great challenge. In the end, all of his older wines are supplied directly from the individual chateaux, which is ideal in ensuring seamless provenance and storage. But as one can imagine, it must not have been easy to convince a producer to hand over a 1924 Chateau Latour or a 1900 Chateau d'Yquem directly from his cellar.
Against the odds, Olivier has created twenty-two vertical collections of some of the most coveted producers in the world. For wine lovers, it is a treat to follow the evolution of a particular label, how the wines have aged and how styles have changed (especially if there has been a change of hand in winemaking). A vertical collection must represent at least ten vintages to qualify. Two of Gaia's stunning examples from the Old World are Chateau Cheval Blanc dating from 1947 to 2000 and vintages of Chateau d'Yquem covering almost a whole century from 1900 to 1999. Outstanding American verticals are represented by Washington's Andrew Will Winery (1992 to 2003) and Sonoma's Peter Michael Winery (1992 to 2003).
Olivier's list also delivers a range in pricing. While one can certainly indulge in a $24,000 magnum of a 1961 Chateau Petrus, twenty-five percent of the list is under sixty dollars. There is even a section of the list entitled "Around the World for No More Than $60," which includes such tasty choices as the Scharffenberger NV Brut from Mendocino County ($46), the 2004 Castell Sallegg Pinot Grigio from Alto Adige ($44) and the 2003 Cocodrilo from Mendoza ($44). Currently, all three of these wines are also being served by the glass.
As I tasted the entire line-up of the by-the-glass list with Olivier, he elaborated on the merits and reasoning behind each of the twenty-one wines. By midway I realized the list reflects where the future of wine is heading and Olivier's personal support of it: organic, screw cap, great wines from underwhelming vintages and exceptional bottles of varietals considered passé. I found Olivier's open-mindedness refreshing.
The list starts with four sparkling wines — which is impressive for a tight listing of sixteen wines — followed by white, rosé, red and sweet wines. I was especially impressed with the white wine section. Of the five whites, three blew me away. I had a special liking for the 2004 Castel Salleg Pinot Grigio, which elevated the status of this badly-marketed grape varietal several notches in my mind. It drank like a wine with depth and complexity, steely but not limpid like most Pinot Grigios by the glass.
Olivier calls the 2004 Purple Mountain Chardonnay ($10) his "découverte de l'année" ("discovery of the year"), and after one sip, I understood why. Here is a Chardonnay coming out of California that's organic, and the pure fruit of this noble grape just shines through. This barrel-fermented wine shies away from butter and caramel, so all one tastes is nicely balanced acidity with clean fruit. Simply a joy, period.
If that had been the only white on the list, I would have been more than content until I tasted the 1997 Leroy Bourgogne ($16), which was another standout. Olivier pointed out two important things about this off-vintage wine from a top producer: 1/ Just by looking at the wine, the brightness of the golden hue reveals the quality of an almost decade-old wine. If it hadn't been well made to begin with the wine could easily have shown signs of oxidation. The color would verge on a dulled butterscotch rather than a vibrant gold. 2/ The way to judge a producer is never by his top-of-the-line wines but rather by his entry-level line-up. If the basic-level wines have been handled with care and stand out on their own, a certain level of excellence is guaranteed for all the wines.
In fact, I couldn't get over the taste of the '97 Leroy after the tasting. I was craving it back in the City, but I wasn't sure how I would chase down a glass without heading back to Greenwich. A week later, while lunching at The Modern I serendipitously spotted the 1997 Leroy by the glass on their always-evolving list. A quick check with the assistant wine director confirmed that I just happened upon the only restaurant in Manhattan that is serving this wine au verre. Lucky me. I left lunch in a joyous mood that I traced back to the afternoon I spent at Gaia, surrounded by the excitement of a knowledgeable wine director sharing his taste and vision.