by Celia Sin-Tien Cheng
June 10, 2009
We tempted you with our Madrid photos in Murmuring, and now we're revealing all the information you'll need to find the treats in Spain's capital.
Mushrooms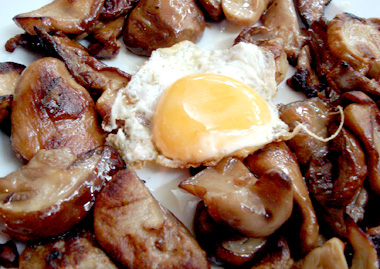 CISNE AZUL
C/ Gravina 19
28004 Madrid
+34 915 213 799
This hole-in-the-wall tapas bar/restaurant specializes in mushrooms. I tried two types of mushrooms, porcini with fried egg and shiitake with foie gras — both amazing! While this was one of the dingiest restaurants I dined at, it was also one of my favorites!
Deep-fried Little Anchovies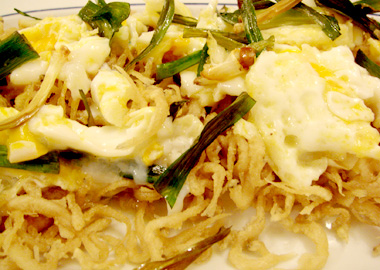 BOCAITO
C/ Libertad 6
28004 Madrid
+34 915 321 219
Bocaito's tapas bar is bustling with energy and delicious tapas, and the restaurant is charming with treats like this broken eggs (fried egg broken up while slightly runny) dish with deep-fried little anchovies.
Skewered Lamb Intestines
Churros con Chocolate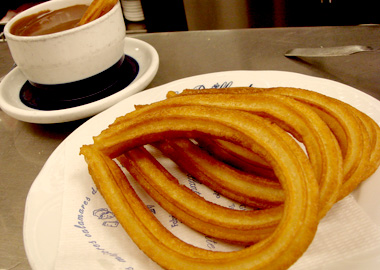 Porras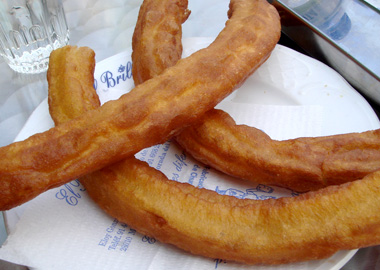 EL BRILLANTE
Plaza Emperador Carlos V 8
28012 Madrid
+34 915 392 806
Right next to the Reina Sofia, El Brillante may seem like a touristy cafe, but don't be fooled. Stay away from the tourist trap of the deep fried calamari sandwich and taste some truly good tapas of zarajo (lamb intestines), morcilla (blood sausage), mollejas (sweet bread), patatas bravas (fried potatoes) and more. Both the churros and porras (a thicker and airier type of deep fried dough) with hot chocolate are musts — though I prefer the cakier interior texture of churros!
Tapas
TABERNA TXAKOLI
C/ Cava Baja, 26
28005 Madrid
+34 913 664 877
Taberna Txakoli serves Basque tapas, and on Sunday for lunch it was jammed packed. It's filled with lots of energy and scrumptious treats including the gulas (baby eels) tapas that was delicious!
Jamón de Jabugo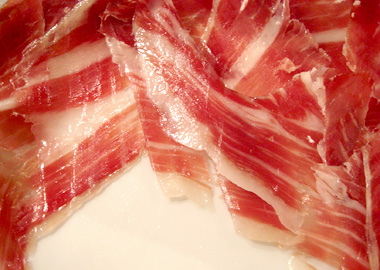 Huevos Estrellados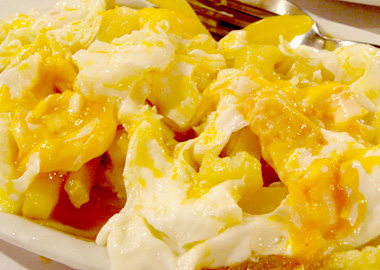 CASA LUCIO
C/ Cava Baja 35
28005 Madrid
+34 913 653 252
Casa Lucio is an institution. Though it's a heavy tourist spot, the locals cannot deny that the food is really solid. The broken eggs are a signature that everyone orders. I had the best Iberico ham, from Jabugo, at Casa Lucio, so despite the atmosphere, I'd still go back!
Nouvelle Nikuman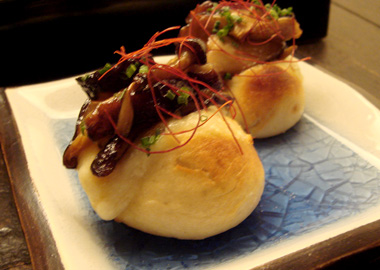 ASIANA
Travesia San Mateo 4
28004 Madrid
+34 913 100 965
I'm not a fan of fusion cuisine, but sometimes that becomes a lame blanket statement. As long as the food is delicious, it shouldn't make a difference. This Spanish fusion restaurant is hidden within an antique store. This hors d'oeuvre may look like a miniature nikuman (Japanese meat bun), but it's made with buffala mozzarella and topped with Japanese mushrooms.
Bocadillos Jamón de Jabugo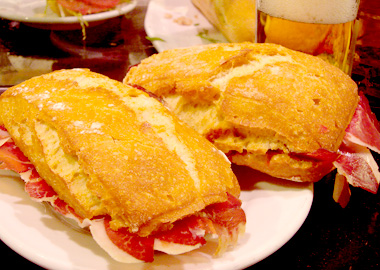 LA GARRIGA
Paseo Castellana 153
28046 Madrid
+34 915 700 139
A friend recommended this as Madrid's BEST charcuterie shop, and it certainly did not disappoint. In addition to eating Jabugo ham bocadillo with the lunch crowd, I also brought back some Jabugo ham at €129/kg!
Chocolate Apple Tart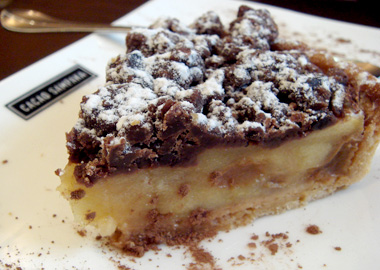 CACAO SAMPAKA
C/ Orellana 4
28004 Madrid
+34 913 195 840
Spain's best chocolatier Cacao Sampaka has presence worldwide. The chocolates are good and beautifully packaged for gifting. There's also a cafe next-door where you can try their desserts.
Quesos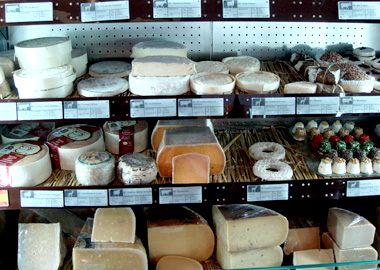 PONCELET
C/ Argensola 27
28004 Madrid
+34 913 080 221
It's absolutely wonderful to visit cheese shops that house global varieties with care. There's a large selection at Poncelet, and the staff are very accomodating in helping customers find a variety of goods to try.
Packaging at Vinçon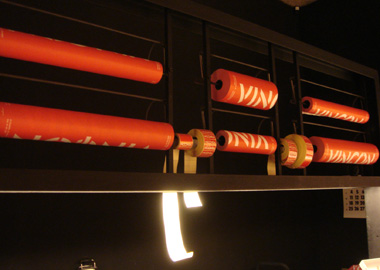 VINÇON
C/ Castelló 18
28001 Madrid
+34 915 776 666
Vinçon, located in Salamanca neighborhood, is currently the "it" concept store in Madrid. I loved the check-out counters adorned with rolls of Vinçon's wrapping paper. It's good branding, easy access, and aesthetically beautiful.