by Celia Sin-Tien Cheng
July 29, 2010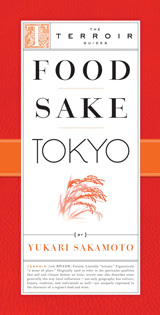 Food Sake Tokyo
by Yukari Sakamoto
(The Little Bookroom, 2010)
$29.95
Life can be rather serendipitous. The Little Bookroom came out with its newest Terroir Guide, Food Sake Tokyo, in May — just in time for my trip to Tokyo. What luck! When traveling, I always turn to the trustworthy Terroir Guides if they are available.
As I flipped through Yukari Sakamoto's guide, I recognized some classics I knew from the years that I lived in Tokyo, and I felt confident that I would enjoy her other recommendations as well. Sakamoto is a trained chef, baker and sommelier who now teaches classes on food, wine and shochu. She is also married to a fish monger!
The guidebook explains Japanese food culture through different cuisines like kaiseki, nabe, oden, offal, and Western-influenced. It also details the general categories of the Japanese pantry, such as produce, soy, seafood, rice and noodles, sweets, etc. There are breakdowns of miso types, sushi etiquette, popular hot pots and more. Sakamoto also highlights restaurants, shops and bars in different Tokyo neighborhoods including Ginza, Nihonbashi, Omotesando and Azabu Juban. And recommends culinary itineraries for one- or two-day tours and day trips.
My time in Tokyo was brief, but one of the restaurants/shops I did want to check out was Kintame — Tokyo's branch of Kyoto's famous Japanese pickle house. One of my most memorable food experiences from the time I lived in Japan was visiting the original Kintame restaurant in Kyoto. Until then I had never thought much of Japanese pickled vegetables, but after my lunch there I fell in love! I love food experiences that open your eyes to an entirely different world — that give you a taste for a type of food while also conveying the flavors of culture and history.
I wasn't aware that Kintame had Tokyo branches until reading Food Sake Tokyo. So for nostalgia and for a good traditional meal, Cynthia and I ventured to the Kintame in the Tokyo Station Daimaru department store. I know it sounds cheesy to eat in a department store, but inside Kintame it felt like a different world — peaceful and Zen. I could have been back in Kyoto.
Below are the pages from Food Sake Tokyo that introduce Kintame. The book is a pleasure to read, even if you are not visiting Tokyo. And if you are, it is an essential guide. Also check out Sakamoto's Food Sake Tokyo blog.