by Cynthia Sin-Yi Cheng
October 1, 2005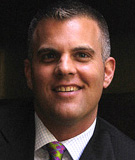 Wine Director
Aqua
San Francisco, California, USA
Professional figure skater turned top wine director, Sean Crowley is a prime example of a champagne enthusiast who has not only carefully constructed an exceptional champagne section in his wine list at Aqua, he's also been spreading his love of bubbly by offering his patrons options otherwise unavailable — especially in hard-to-come-by champagnes by the glass.


So what was it that got you hooked on champagne in the first place?
Champagne was really my first introduction to wine. My brother-in-law Mark Franz (chef-owner of San Francisco's Farallon) taught me how to open and serve champagne when I was 14. Food and wine was always a well-loved thing in our household and since Mark was a chef, it just made sense for him to want to share his passion. And because you're more impressionable when you're young, I guess that's why I became fascinated by champagne. It was the first wine I really wanted to explore and learn about when I got older.


Forward to today. What are your top three champagne cravings right now?
I really enjoy elegance, sophistication and cleanliness in a champagne. The three wines that I keep going back to that have all these qualities are Laurent-Perrier's Grand Siècle, Billecart-Salmon's Rosé, and Mumm de Cramant.


I was reading up on Laurent-Perrier's Grand Siècle "La Cuvée" in Richard Juhlin's 4,000 Champagnes and Tom Stevenson's World Encyclopedia of Champagne and Sparkling Wine. They both seem to be in awe of it. Can you tell me why you're so fond of this wine?
Grand Siècle, I believe, is a stellar champagne — we are pouring it by the glass right now through the holidays and it's a perennial staff favorite at Aqua. It is a true multi-vintage champagne and is always a blend of 100% grand cru grapes (50/50 Pinot and Chardonnay). Tom Stevenson, who I think is one of the best champagne experts around, has an entire page devoted to Grand Siècle in his book. What I love most about this champagne is not only its elegance, its sophistication, and its cleanliness, but also its subtlety and nuances. It always has this amazing balance between density of texture and piercing acidity.


Speaking of balance, what are some of your favorite food pairings with champagne?
The natural acidity makes it the perfect match with so many foods. I drink bubbles with sushi because it cuts through the thickness of the rice and the raw fish. I love rosé champagne with charcouterie because the fruit of the rosé balances out the meaty flavor and picks up on subtle things like nuts and fruit in foie gras terrine…again, I go back to texture and acidity — charcouterie items tend to have a lot of creaminess and density, and the high acidity in champagne cuts through this richness across the palate and cleanses it.