by Celia Sin-Tien Cheng
December 9, 2009
For our final holiday gift recommendation this year, we present Dandoy's famous speculoos — each biscuit encapsulates the taste of Christmas with cinnamon, cloves, nutmeg, ginger, and anise. Dandoy is Belgium's premiere biscuit house, and they've perfected their art over six generations (since 1829). Thin and crisp, these biscuits are delicate and delicious. Elegantly packaged, Dandoy's speculoos are the ideal gift that speak of sophistication and delicacy.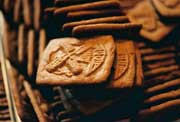 Dandoy Biscuits are available at Borne Confections (485 Park Ave, New York, NY 10022) or click here to enter their online store.