by Celia Sin-Tien Cheng
May 17, 2005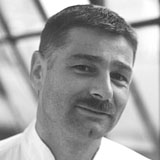 Christopher and Norman are actually the two middle names of Chief Chocolate Officer, John Down. Together with partner, Joe Guiliano, president of the company, they create some of the most beautifully exquisite chocolates in town. Both John and Joe come from creative backgrounds, in art and music respectively, so when they combine their passions and talents the result is a fun and non-traditional business model in chocolate making.
John is a painter who continues to paint and exhibit his work around the world. When he first started making chocolates he kept his two passions separate. However, as he eased into his career as a chocolatier, John started to play around with the properties of chocolate and developed his own distinctive style of artistry in using chocolate as his canvas. The result: visually scrumptious creations of artistic genius. Naturally, he hand paints his chocolates, and most notably, many of the white chocolate couvertures are hand painted with dark chocolate to create a marbling effect. "Cupids & Cream," the cinnamon and cardamom bonbon, is a good example of marbled hand painting on a hexagon-shaped white chocolate. Since he is known for both his paintings and his chocolates, John is often commissioned to create "chocolate art," including chocolate paintings and sculptural chocolate vases and plates.
Located in the Financial District, Christopher Norman is a happy addition to the neighborhood as it is helping to shape the redevelopment of the downtown recovery post 9/11. Despite the corporate overtones of the area, Christopher Norman promotes a casual and inviting hangout for regulars and newcomers alike. Customers stop in to enjoy a cup of coffee, hot chocolate or chocolates in a warm and friendly environment. All the employees are locals from the neighborhood too, so one senses the importance of community for Christopher Norman.
While making fine chocolates and making them beautifully is a very serious business, Christopher Norman likes to have fun by shaking things up every once in a while. Their boxed chocolates are wrapped in decorative paper that is sourced from around the world. The wraps change seasonally, each with its own theme, whether it is Valentine's Day, Easter or Christmas. New flavors are also introduced depending on the season. Many fans can't wait for the launch of the new wraps and wait eagerly for the changing season to buy one of Christopher Norman's newest creation.
Christopher Norman brings a smile to my face and warmth to my heart. Somehow, by coming to their store or buying a piece of their chocolate, I feel that I have become part of Joe and John's community and share their personal pleasure in chocolate and living.
Click here to read about our craving from Martine Leventer at Martine's Chocolates.