by Celia Sin-Tien Cheng
April 27, 2010
Recipes from an Italian Summer
(Phaidon, 2010)
$39.95
Summer is around the corner. And that means lots to look forward to: vacations on the beach or countryside, lounging and relaxing, and of course, wining and dining!
Phaidon's latest cookbook Recipes from an Italian Summer is the perfect summer cooking companion with simple recipes for Italian dishes with fresh ingredients. A collection of Italian recipes that utilize fruits and vegetables of the season, the chapters are organized by our summer eating habits: picnics, salads, barbeques, light lunches and suppers, summer entertaining, desserts, and ice cream and drinks.
I've chosen three simple recipes from Recipes from an Italian Summer to show how easily you can use the bounty of fresh fruits and vegetables available in the summer. Happy summer and happy eating!
Piadina
Preparation time: 45 minutes (including rising)
Cooking time: 15 minutes
Serves 12
5 ¼ cups all-purpose flour, plus extra for dusting
2 teaspoons baking powder
¼ cup lard
Olive oil, for brushing
12 slices prosciutto
Salt
Sift together the flour, baking powder, and 2 pinches of a salt into a large bowl. Add the lard and as much warm water as necessary to mix to a springy dough. Cover with a clean dish towel and let rise for 30 minutes.
Divide the dough into 12 pieces and roll them out into thin rounds on a lightly floured counter. Brush a skillet with oil, add the rounds in batches, and cook on both sides for a few minutes, until lightly browned. Top each Piadina with a slice of prosciutto and fold in half to serve.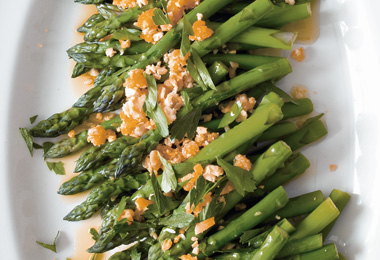 Asparagus Salad
Asparagi in Insalata
Preparation time: 15 mins
Cooking time: 20-25 mins
Serves 4
2 ¼ pounds asparagus
4 hard-cooked eggs
Olive oil, for drizzling
Juice of ½ lemon, strained
1 tablespoon chopped flat-leaf parsley
Salt and pepper
Tie the asparagus together, stand them in a tall pan of salted boiling water without submerging the tips, cover, and cook for 5-10 minutes, until tender. Remove from the pan and arrange on a serving dish. Halve the eggs, scoop out the yolks, and crumble them over the asparagus. Drizzle with oil, sprinkle with lemon juice and parsley, and season with salt and pepper. Serve immediately.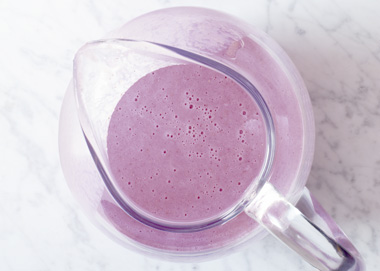 Strawberry Smoothie
Frullato di Fragole
Preparation time: 30 minutes (including soaking)
Serves 4
2 tablespoons white-wine vinegar
1 ¾ cup strawberries
Superfine sugar, to taste
3 cups milk
Stir the vinegar into a medium-size bowl of water. Add the strawberries without hulling them, and let soak for about 10 minutes. Drain the strawberries well, hull them, and put them into a blender.
Blend them to a puree, then taste and ass a little sugar if necessary. Add the milk and blend briefly again to mix, then pour into 4 chilled glasses and serve.