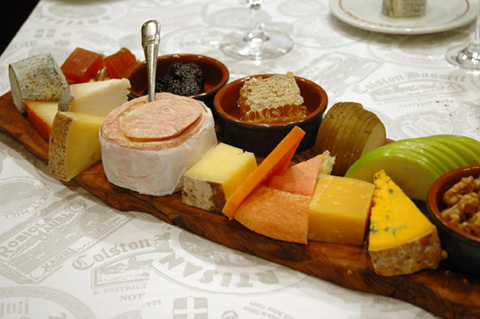 by Celia Sin-Tien Cheng
June 28, 2007
One of the most fortuitous meetings I've had this year was with
Max McCalman, a.k.a. "the cheese guy." Max is known as the youngest of the "three tenors of cheese" in the City, along with Steven Jenkins (cheese expert of Fairway markets) and Rob Kaufelt (of Murray's Cheese). As maître fromager at Picholine, Max is more than a mere cheese-lover; he is a cheese advocate. In addition to orchestrating the cheese program at Picholine and promoting cheese through his books and seminars, Max spends much of his time teaching and selecting cheeses for the Artisanal Cheese Center — founded by Artisanal and Picholine chef owner, Terrance Brennan.
I say fortuitous because I can't recall the last time I met someone who was so passionate about his work. Max loves cheese! Not only is he constantly learning more about it, but he also shares his love with the public through education. Had I not spent several afternoons and evenings getting to know Max, I would have thought that it was just a commercial pursuit to sell cheese. But many a cheese and beverage pairings, a class and several discussions later, I am wholeheartedly in awe of Max's devotion and dedication. As a food geek, it's amazing to meet someone else who is absolutely fanatic about food, and in Max's case, with a specialty in cheese.
I've always liked cheese, but found it a bit intimidating. Much like the world of wine, it's so vast yet specific. Where does one even start? So even as I approached Max to work on this feature, I felt like a timid amateur in the presence of a master. The amazing thing about the whole experience though, was that Max never once made me feel like I was an amateur, neither during private tastings nor in his class. He is completely open to discussion and wants to engage people in a dialogue about the cheeses and pairings he's selected. He's made cheese approachable and opened my eyes to the possibilities of pairings — not just the pairing of cheese and wine, or cheese and other beverages, but the concept of how food and drink complement or detract from each other.
One of the current cheese flights offered at the Artisanal bistro is a three-course cheese and sake pairing, called East Meets West. This is a new concept Max has been playing with. Sake's hot, so everyone wants a piece of the action, so naturally, I had my doubts as to whether this was just another trend chaser. But as Max and I progressed through the tasting of this unique flight, I was really impressed by how well the sakes and the cheeses worked together. I was even more impressed by Max's endless capacity to experiment. Throughout our encounters and discussions, Max was consistently more open-minded than I was, and I'm pretty liberal when it comes to food!
I now crave a little bit of cheese every day, and I have become fascinated with experimenting, rather than intimidated by cheese and its infinite variety. The right mentor can open a whole new world of experiences. And in the world of cheese, I'm glad that I've found a mentor in Max McCalman.
Enjoy Cynthia's tasting notes on the myriad cheese and beverage pairings ranging from coffee to gin cocktail, and sake to pale ale!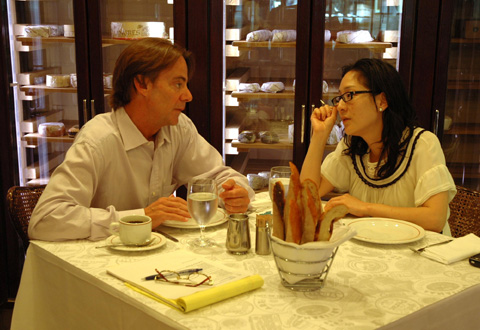 by Celia Sin-Tien Cheng
June 28, 2007
Even before I sat down and spent an afternoon tasting with Max McCalman, cheese master par excellence, I had long been sold on the idea of enjoying cheese with a host of beverages rather than just the traditional fromage partner: wine. But despite the boundless world of cheese pairings, stellar combinations are not always easy to come by, so I have to admit Max's matchmaking sensibility really blew me away. I'm excited to share my notes on our discoveries.
Max dreamed up the theme of the tasting as "A Cheese in a Day of a Life." His idea was to demonstrate how cheese and the beverages with which we pair it are a natural part of our daily lives. Breakfast, for example, at least in many European countries, includes cheese, and coffee, of course, is a customary matinal beverage. So although a cheese-and-coffee pairing may seem unlikely, I'm sure most of us have already tried it at one point.
Out of the ten pairings we tried, these were my five favorites:
Garrotxa (Spain) w/ Coffee
Max described this pasteurized goat's milk gem from Catalonia as a "good-morning-kinda cheese." I found it chalky in texture, grassy in taste and screaming acidity (which is a prominent characteristic of goat's milk cheese). When paired with dark coffee—I tried it black first, then with some sugar, which I preferred—the brew coats the cheese, bringing out its tanginess. I was worried that the acidity of the coffee would be overwhelming, but I learned that it's preferable to have two likes rather than opposites in a pairing, so this particular couple was perfectly harmonious.
Max also stressed that there is no need to stick to terroir pairings. For example, enjoying a Pedro Ximenez sherry with this Garrotxa, also from Spain, might seem natural, but often a cheese and beverage of different origins can result in an unexpected "match-made-in-heaven!"
The only thing that I would have preferred would be a darker brew or an espresso. Our coffee was not limpid by any means, and once it cooled down, the aromas were more concentrated, so I enjoyed the pairing even more, but I'd definitely recommend a strong cup.
Ibores (Spain) w/ Bombay Sapphire, Ginger Ale and Mint
What makes a good pairing? Each item must have its own distinct identity making it enjoyable alone, and when brought together must complement or bring out newfound tastes in its partner. It is rare to find a pair that share the spotlight fifty-fifty; more often than not, one takes the lead, while the other plays a solid supporting role.
This was the case with Max's Ibores-gin pairing. His cocktail of Bombay Sapphire, ginger ale and fresh mint made the perfect chaser for the cheese. The nutty, salty, and earthy qualities of this aged raw goat's milk delight from Extremadura, the Western region of Spain, are only enhanced by the refreshing, summery cocktail.
Sainte-Maure de Touraine (France) w/ Toyo Bijin Junmai Ginjo
Sake and cheese? Why not? Yes, I was a bit skeptical initially. But tastings are an exercise in seeing for yourself, and this pairing was no exception. I must admit the Sainte-Maure is hard not to like alone. This classic Loire Valley fresh goat's milk cheese, distinctively covered in an ash mold, comes in a small log with a straw in the middle to hold its shape as well as to help with airflow for age enhancement. To the nose, it is reminiscent of the attic of an old house. Its texture evolves as it ages. In its youth, it is semisoft and moist. As it develops, it will become drier and more intense in flavor. I love its freshness and the lemony tang mixed with dusty flavors from the ash rind.
As far as I'm concerned, Saint-Maure doesn't need any support. I'm already partial to it. But the moment I tasted the sake accompaniment, it was clear that this wasn't just a trendy gimmick. In fact, Max had mentioned several times how well cheese and sake really do go together. Afterall, he's already done the experimenting and is now presenting me with the winning teams. Here, the chèvre plays the supporting role. The cheese actually heightens the flavor of this junmai ginjo, balancing out its sweetness and fruitiness.
This particular pairing gave me the chance to ask Max about whether it is best to taste the outer rind during a pairing. He recommended sampling just the paste since that is the essential flavor profile that we are trying to find a match for. The outer layer adds levels of complexity that might be distracting or irrelevant to the pairing at hand.
Azeitão (Portugal) w/ 2004 Domaine Henri Delagrange Volnay
Hands down, this was my favorite match. This pungent, stinky raw sheep's milk cheese from Portugal is extraordinary. I am a believer that the serving method affects the taste of the product. Here, a circular top was cut off, and the gooey cheese was spooned out. It was almost like eating butter straight, only creamier, saltier, and punctuated with intensely smelly flavors and a bitter finish.
I had a hunch right away that this would go well with any red wine low in tannin. I was thinking of a good cru Beaujolais. Needless to say, the 2004 Volnay was hardly a let down. Bright and cranberry in tone, this elegant Burgundy is infused with bright red cherries.
Azeitão is so intense that the wine had to balance the taste but not disappear in the combination. The Pinot Noir was perfect. It's confident but not heavy-handed. The delicacy of the Pinot grape allowed for elegant yet fully-developed fruit flavors and complexity that stood up to the earthy cheese.
Shropshire Blue (England) w/ Jever Pilsner
This English blue cheese — actually orange in color — got along swimmingly with the German Jever Pilsner. Despite the Shropshire's dark yellow-orange tint (accented with ash-colored molding in the middle), it is a rather gentle blue. By that I mean it isn't particularly salty or abrasively strong. This is because the English belle is actually a Stilton infused in a natural West Indies color dye, annatto.
The hoppy Jever is crisp, grassy, and leaves a bitter finish. As a Stilton, the Shropshire is neither over-powering nor dramatically sharp but still retains layers of rich flavor as you bite into the interior molds. The refreshing pilsner cuts right through the creamy texture, lifting away any trace of dustiness and minerality.