by Celia Sin-Tien Cheng
May 17, 2005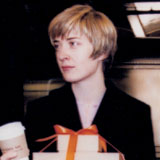 Alison Nelson created Chocolate Bar in 2002 with former partner Matt Lewis. The two had a vision to start the venture over a dinner party at Mr. Lewis' while they enjoyed the chocolate torte he had baked. They both loved the idea of a café that focused on chocolate goods; Alison had the experience in the service and event planning industry and Matt had the marketing background and capital to invest. So four months later, Chocolate Bar opened its doors downtown on Eighth Avenue.
Chocolate Bar is a choco-happy neighborhood place where people come to enjoy their hot chocolate, coffee, or egg cream as well as the variety of bonbons and baked goods. The atmosphere is relaxed and it fits like a niche in its West Village surroundings.
Alison was born and raised in Queens. A native New Yorker, she knows what the City is all about. Despite all the glitz and glamour, it's really the neighborhoods that make up New York City. That's why she wanted her little shop to have that all-important neighborhood feel; "To be edgy but not exclusive, just like New York City," she explains.
Several industry-recognized chocolatiers including Jacques Torres, Andew Shotts and pastry chef Ilene C. Shane, currently make Chocolate Bar's chocolates. The collaborative efforts have been successful and since the chocolates are not private-labeled, the producers receive recognition for their great work. At the same time, the customers get to mix-and-match and choose goodies from different chocolatiers to compose their own eclectic chocolate experience.
Alison is vibrant but unassuming. She often doesn't recognize celebrities who stop in her store. Her reenactment of the post-facto shock is really charming. She speaks adoringly of the chocolatiers she works with, as well as her employees who bring vitality to the store; both sets of colleagues give her inspiration. She loves the fact that her job is, after all, to simply make people happy.
Chocolate Bar is about accessibility and fun. Alison wanted to introduce up-scale chocolates in an unpretentious way. She has managed to merge her modern sensibilities with nostalgia, retro-chic design with comforting emotions, and she continues to innovate as she plans the launch of new product lines. Chocolate Bar is still a neighborhood joint, but it has grown into a larger concept, a lifestyle. Don't the signature Chocolate Bar colors of orange, cream, chocolate and white just look delicious?!
Click here to read about our craving from Alison Nelson at Chocolate Bar.