by Celia Sin-Tien Cheng
May 17, 2005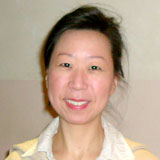 The charm behind Kee's Chocolates is the chocolatier/owner herself, Kee Ling Tong. She is usually behind the counter making chocolates or attending to customers. Everything about this store speaks of her passion and dedication. Kee graduated from the French Culinary Institute in 2001. She opened the store to pursue her passion in making chocolates and gardening. The little storefront in SoHo opened as "Chocolate Garden" but has since been renamed as "Kee's Chocolates" due to trademark issues.
Kee has a small, but consistent, quality selection of chocolates. The flavors are original and classic at the same time. While many of the ingredients may seem exotic, they are actually time-tested flavors in Asian cuisine, such as black sesame and yuzu (a citrus fruit commonly used in Japanese cooking). As a true sesame-phile, the Black Sesame is one of my favorites; the sesame ganache is rolled into the shape of a ball and then covered in black and white sesame seeds. It is both appealing to the eye and palate. The Passion Fruit bonbon is filled in a heart-shaped chocolate. The tartness of the passion fruit complements the dark chocolate seamlessly, providing heart-warming fulfillment. The Thompson is dark chocolate ganache with a layer of fresh-whipped cream on top. Yums!
At $1.75 a piece, this is the best bargain in town. An even better deal is the 6-piece box for $10. I rarely go in to Kee's for just one piece of chocolate when I know I can get six at such a reasonable price. It is the perfect treat to share with people. Quality, delicious chocolates and the best deal in my book — suffice it to say that Kee's is definitely one of my favorite chocolatiers in the city.
Click here to read about our craving from Kee Ling Tong at Kee's Chocolates.