by Celia Sin-Tien Cheng
May 17, 2005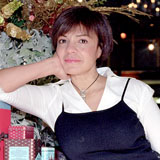 The key to success and legions of loyal customers is to add a little romance. There is a lotta love and romance in MarieBelle's chocolates and the story behind them. Their bonbons with darling silk-screened designs are showcased in luxurious Italian boxes that elevate the chocolates to the status of precious jewels in treasure chests.
Maribel Lieberman, designer and founder of MarieBelle, is a strong-minded woman who believes in serendipity.
In October 2000, Maribel opened Lunettes et Chocolat with her neighbor and best friend, Selima Salaun, on Prince street in Nolita. Afraid that business collaboration would ruin their friendship, they decided to open a store that would let them each have autonomy over their own space. Lunettes et Chocolat was an instant success. New Yorkers took to the odd concept of a store housing two unrelated worlds connected only by mutual consuming passions and a strong focus on innovation and design.
MarieBelle started out with 10 ganache flavors and has now jumped to a variety of 28. Throw in a successful hot chocolate line, a catering business and six new product lines launching this year. And then in 2002, MarieBelle Fine Treats opened on Broome Street.
From fashion to chocolates, from the success of her hot chocolate product line to her catering business, it is obvious that Maribel is blessed with luck. But it is clear that her determination and dedication has made all the difference. "It doesn't' matter how good you are, there is always competition," which is a good thing in her eyes because it drives her to keep trying her best, to keep innovating.
As I sat in the Cocoa Room finishing my hot chocolate, I was enraptured in the magic of a little bit of romance, even if it was just a temporary respite. On a weekday afternoon in Manhattan I was enjoying the experience Maribel has created through the pursuit of her dreams. For what would we be without dreams? Where would we get our inspirations?
Click here to read about our craving from Maribel Lieberman at Mariebelle.