by Celia Sin-Tien Cheng
May 1, 2006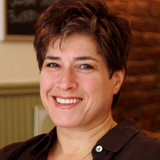 CRAVINGS
Foie gras
Craft
Calzoni with mushrooms
John's of Bleecker Street
Sushi
Bond St
When the first words Tony Soprano utters when coming out of his coma are "The lobster roll… Pearl Oyster Bar," you know Tony's got a serious craving. But he's not the only one. Rebecca Charles has a city full of fans, not just for her lobster rolls but also for everything about her charming little seafood restaurant, Pearl Oyster Bar.
Part of what I love about Pearl is that there are no pretensions. They don't take reservations, so you go, it's crowded and you wait. The staff is brusque but not rude, as they are just busy and treat everyone the same way. Pearl opened in 1997 and, in 2003, expanded to incorporate the space next door, adding twelve tables and a private dining room in the back, now seating 54 in total. On the bar side of the restaurant (part of the original space), it's like a family, chock full of regulars. Even people who don't know each other can easily strike up a conversation and talk about good food around town.
Rebecca is at Pearl six days a week. Her strong personality resonates in her food and restaurant ambiance. It's a bit ironic, given the success of Pearl, that she tells me she never intended to open a small New England-themed seafood restaurant. She had originally wanted to open a larger-scale, full-service, white tablecloth, formal dining type of restaurant. But when she found the space on the little "restaurant row" in the West Village, which housed Po, Home and Le Gigot, she knew it was the space for her. The block has such charm that, even though the building she found was in fairly bad condition, she was willing to put in the work to revamp it into the Pearl Oyster Bar we know today. The space was so small that she couldn't cook the type of food she really wanted to. So she thought of the idea to serve a more casual cuisine with some of her personal favorites from the summers she spent in Kennebunkport — some quintessential, traditional New England staples. Intentional or not, she's very satisfied with the success of the restaurant and proud that it has become a classic.
At the same time, nine years after introducing the lobster roll to the New York City culinary scene, Rebecca is itching to do something different. She loves rich foods and is a steak fanatic and would like to open the original restaurant she had in mind. This restaurant wouldn't be confined to any theme or specialty but would incorporate aspects of various styles that she likes, like braised meats with broad noodles, reduced stock, steak, foie gras, etc. But she doesn't want to just open any restaurant; she is still searching for the perfect spot. And until she finds it, she may never open this restaurant.
I don't know anyone who's more particular and selective about a restaurant space, and I admire and commend Rebecca's integrity for knowing what she wants and making sure that if she can't take pride in the way she expresses herself, she won't do it at all. She describes her dream space as having a classic and historic feel that would stand apart from replaceable restaurants that just rely on fancy décor. She understands that a restaurant is not just about the food or the chef but that the space and atmosphere are integral to creating an overall pleasurable dining experience.
Rebecca's got a lot of spunk and that no-nonsense attitude. It's that same feel you get when you are at Pearl. It's refreshing for me to talk to someone who just says it like it is. Watching her work in the kitchen is a treat too. She has this ability to make you feel like you've come home, even though my home is not remotely similar to that of a New England seaport. I genuinely hope that she does find that perfect space for her next restaurant, because I will be the first in line to try it.
by Celia Sin-Tien Cheng
May 1, 2006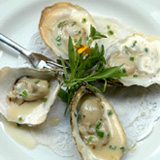 GRILLED OYSTERS W/ CHAMPAGNE BEURRE BLANC
I've always been a big fan of Pearl's fried oysters, but these more elegant and refined grilled oysters are also knockouts and showcase how good oysters taste. They are not on the menu at Pearl, but Rebecca highly recommends them for spring barbeques — you can shuck, grill, eat and pass them around while socializing. The oysters are grilled in the shell. To make your own, use soaked applewood chips to add a light, sweet smoky flavor. Cover the oysters on the grill for a bit to capture the applewood essence. It only takes about 30 seconds for the oysters to cook. Once the oysters are ready, top with a champagne beurre blanc sauce. Yes, CHAMPAGNE BEURRE BLANC — could you imagine anything more decadent and satisfying? A glass of champagne would pair perfectly with the oysters. This dish is light and simple but completely indulging for those of us who love oysters, champagne and beurre blanc — these three were just meant to be.
by Celia Sin-Tien Cheng
May 1, 2006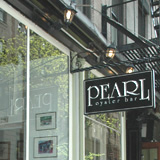 18 Cornelia St
(W 4th & Bleecker St)
212-691-8211
map