by Celia Sin-Tien Cheng
May 28, 2008
This month I traveled to Thailand for the first time. I've always wondered what the land of fiery cuisine, elegant dance, and myriad Buddhist temples was like. Visiting Bangkok and Chiang Mai, I observed the differences between the bustling, sprawling capital city and the lush mountainous northern region, popular among backpackers, resort-goers, and in recent years, artists and expatriates. Chiang Mai, a vacation destination with world-class resorts and spas, allowed me to get a taste of Northern Thai culture and cuisine and decompress.
The Mandarin Oriental Dhera Dhevi hotel, was an excellent choice. This 60-acre resort was built on the grounds of rice paddy fields. The landscape is gorgeous and guests have the choice of a suite, villa or residence. I enjoyed the view of the rice paddies from the pool and borrowed a bike to tour the extensive grounds. But what stood out most was the service. Every staff member was commendably professional, addressing guests by name, always informed of our activities and anticipating our needs.
Breakfast was the highlight of each morning as the wait staff at the Oriental's Mediterranean restaurant, Akaligo, always sat me at the same outdoor table I preferred and brought me a glass of watermelon juice and some peeled mangosteens before I even asked. Here are those mangosteens that I miss so much.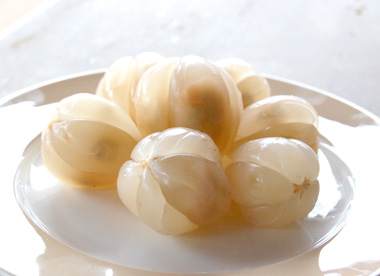 Since the publication of this article, I have received many comments explaining that the above photographed fruits are not mangosteens. Mangosteens have a creamy white flesh, and while these fruits look extremely translucent like duku fruit, these are indeed mangosteens. The photo was rather dark to begin with so in brightening the image, I'm afraid I've also transformed the fruit to look like something it's not.
While at the Mandarin Oriental, I took a cooking class at their Oriental Culinary Academy. As part of the morning class, Chef Anchalee Luadkham takes you on a tour of a local market. I love visiting local markets in Asia and Europe as the stock is so fresh and abundantly diverse. Here's a photo of what mangosteens look like prior to skinning. The fusia-colored fruit with green fins in the background is dragon fruit.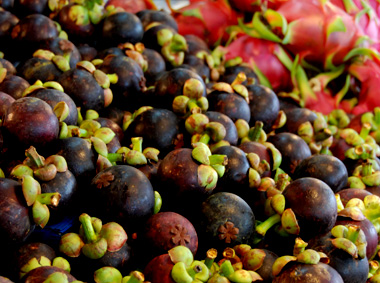 The market sells both groceries and prepared foods. Take a look at the chayote, lush orange carrots and the adorable Thai eggplants.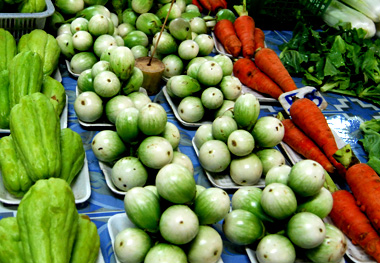 I couldn't believe how good some of the rice tasted in Thailand. Of course, there are different varieties and grades of rice. Some of the best I tasted was actually in the boutique hotels (more on that later). I'm currently hooked on Jasmine. For shoppers at the rice stall pictured here, these cardboard signs confirm the rising price of rice as production shortage continues.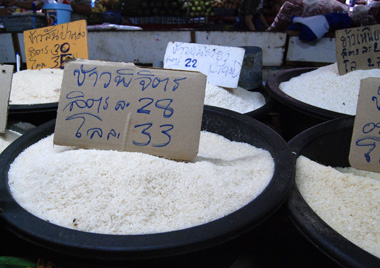 After we picked up the necessary ingredients at the market, our class headed back to the Culinary Academy. The class was on traditional Northern Thai cuisine, which uses heavier flavors, more spice, and virtually no sugar, compared to central (Bangkok) Thai cuisine. The menu included:
• Minced pork salad with organic herbs, fresh mint and coriander leaves
• Spicy chicken soup with northern spices
• Steamed river fish with local herbs in banana leaves
• Sweet sticky rice with taro and longan
Here's my finished minced pork salad, labb moo khua.
The cooking class was a blast! But let's talk about some of the other foods I tried on this trip.
I was intent on eating Northern Thai cuisine, as I wanted to fully understand how it was different from what I'd had before. One of my favorite meals was dinner at Dalaabaa. The guidebooks all made it out to be a trendy bar, but the food turned out to be homestyle and delicious! The spicy minced pork salad couldn't have been more flavorful, and the stir-fried chayote leaves in oyster sauce was a local vegetable that I had never tasted before but instantly fell in love with. You can never go wrong with chicken curry with fresh chili and roti. And we saved the best for last: steamed red tilapia in lime juice. The fish was topped with a stir-fry of vegetables and pork, which seemed unusual, but the flavors enhanced the fish and gave it structure.
Lunch at the Rachamankha was also stellar. This is a stylish boutique hotel in town, where I enjoyed the freshest and spiciest shrimp dish served with plump pieces of tomato, scallions, kaffir lime leaves, and the best Jasmine rice I had on this trip (matched only by another boutique hotel in Bangkok, Arun Residence). It was so good with rice I dreamt of it days later.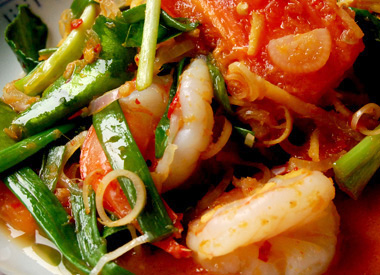 After our delicious meal, I went to check out the rooms. Rachamankha is a small hotel, compared to the resorts like the Mandarin Oriental or Four Seasons, but it's tastefully designed. Except for the narrow showers, it would be a nice place to stay, especially because of the restaurant and bar, and it's in a good location, close to sights and spas.
My most inexpensive meal was at Huen Phen. A quirky restaurant run from a family home, the adjoining rooms are decorated with local crafts. Small dishes allowed for ordering a good variety, but the most memorable ones were an eggplant salad with hard-boiled egg, and the Huen Phen fried rice (fried rice with local sausages). The restaurant was charming, and just as the concierge had "warned," it's for locals — exactly what I was looking for!
I also enjoyed drinks at The Terrace Bar and Cigar Lounge at The Chedi, another boutique hotel. It is absolutely gorgeous in that minimalist way that I love! The architecture is so well conceived; every aspect of the hotel is on display. The only drawback is that it's close to the night bazaar, a plus for many, but not for me.
During a short four days in Chiang Mai, I felt pampered and rejuvenated by the excellent accommodations, exquisite cuisine, soothing massages, and mesmerizing wats (temples). Friends asked me why I didn't choose to go to a beach in Thailand, but I knew that I'd fall in love with this little gem of a city, and I did.
ACCOMMODATIONS
Mandarin Oriental Dhera Dhevi
51/4 Chiang Mai – Sankampaeng Rd
Chiang Mai, Thailand 50000
+66-53-888-888
Rachamankha Hotel
6 Rachamankha 9
Chiang Mai, Thailand 50200
+66-53-904-111
The Chedi
123 Charoen Prathet Rd
Chiang Mai, Thailand 50100
+66-53-253-333
DINING
Rachamankha
6 Rachamankha 9
Chiang Mai, Thailand 50200
+66-53-904-111
Dalaabaa
113 Bumrungraj Rd
Chiang Mai, Thailand 50000
+66-53-242-491
Huen Phen
112 Rachamankha Rd
Chiang Mai, Thailand 50200
+66-53-277-103
SPAS
Dheva Spa
Mandarin Oriental Dhera Dhevi
51/4 Chiang Mai – Sankampaeng Rd
Chiang Mai, Thailand 50000
+66-53-888-888 ext. 8983
Lanna Oasis Spa
4 Samlan Rd
Chiang Mai, Thailand 50200
+66-53-815-000
AKA Spa
35 Rattanakosin Rd
Chiang Mai, Thailand 50000
+66-53-260-514