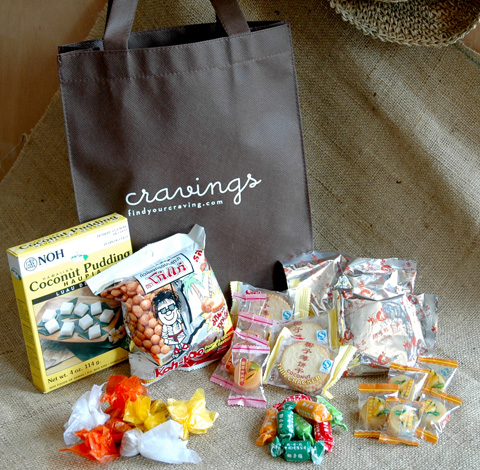 by Celia Sin-Tien Cheng
June 25, 2008
My recent trips to Hawaii and Thailand have got me hooked on coconut. Now back in New York, I've started looking for all things coconut. In addition to covering foods and desserts at restaurants, I've put together a little bag of goodies to share with you. Interested in yummy coconut snacks? Try our coconut goody bag ($19.95) to satisfy this summer craving. The following are detailed descriptions of the items included in the bag. There's also a deluxe version with a bonus treat — coconut Pocky. (The coconut goody bags were a limited-time offer and are sold out.)
Note: Products in the goody bag may be substituted for other coconut treats depending on availability.
Coconut Pudding: Haupia
Hawaii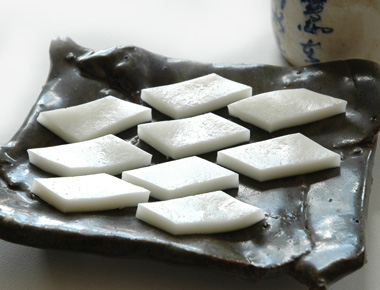 Haupia is a Hawaiian coconut pudding commonly served at luaus. But it's become so popular, that in addition to these gelatin pudding squares, the flavor is used in cakes and yogurt these days. This incredibly easy-to-make bag of mix will serve as a good introduction to haupia. Just heat water, add the mix, stir, and pour into a pan to set and cool. The coconut milk-based pudding is not too sweet, and it's a simple, cooling dessert to serve in the summer.
Coconut Egg Rolls
Taiwan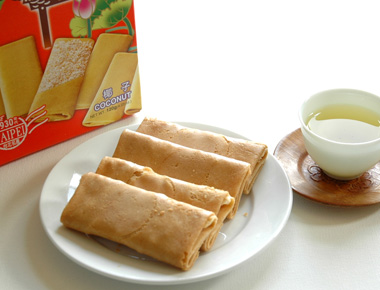 These egg rolls are thin crepes rolled with coconut shreds between the layers. Baked, the texture is like a cookie, and the crisp fine layers make each bite delectable. I find that refrigerating the rolls and eating them cold makes them even taste even better!
Coconut Toffee
Thailand
Soft, chewy and mind-bogglingly delicious, these coconut toffees will make you swoon. Besides, the packaging is so elegant and gorgeous, how could you not fall for them? To me, these toffees are symbols of Thailand. They remind me of its grace and amazing cuisine. The Thai just have a way with these rich flavors.
Coconut Gummies: Papaya and Mango
China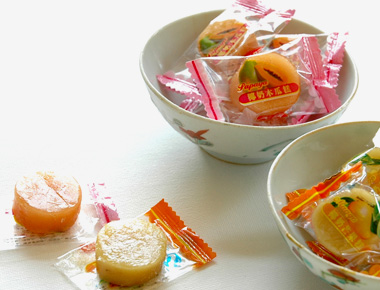 Let's go to the tropics! Chewy coconut/papaya and coconut/mango gummies are the easiest ticket there. Fruity and fragrant, these soft candies are easy to pop into your mouth for a quick fix of exotic flavor.
Coconut Cream-Flavored Peanuts
Thailand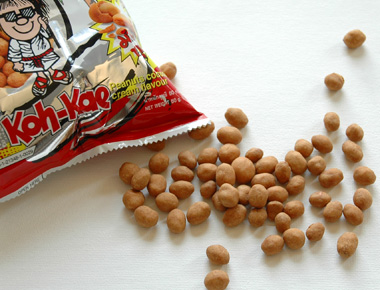 I discovered these peanuts at a Thai supermarket in New York before visiting Thailand. But I grew even more addicted to them while there. These peanuts covered in a coconut cream-flavored shell are dangerously good. The moment you open the bag, the sweet, intoxicating smell of coconut mixed with peanut rushes out. And that's just the tip of the iceberg, because once you taste the first peanut, you won't stop until the bag is finished.
Super Creamy Coconut Candy
Hong Kong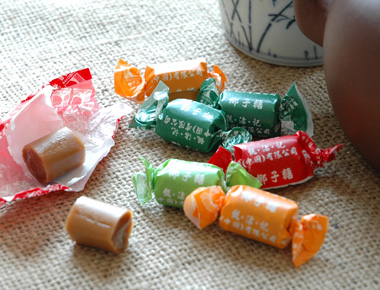 I grew up eating these coconut candies. Similar in flavor to the Thai toffees, these are hard candies that slowly dissolve in your mouth while you savor the creamy roasted coconut flavor. I've loved them since childhood, but they withstand the test of time.
Coconut Thin Cracker
China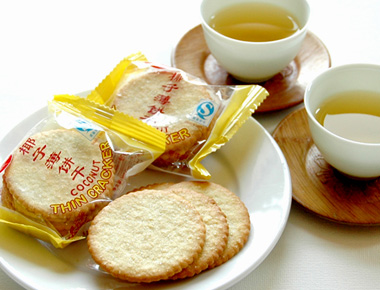 Individually packed coconut crackers are the way to go. As the name reveals, the crackers are thin, and they're dusted with sugar and coconut shreds. Five to a bag, the buttery taste of the cracker and slight sweetness of the toppings make for a light and satisfying snack.
Sorry but the coconut goody bags are sold out.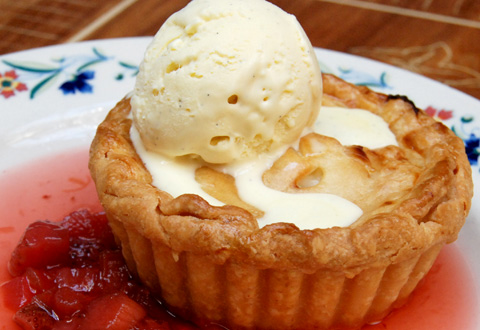 by Celia Sin-Tien Cheng
June 25, 2008
THE NORTH FORK INN
57225 Main Road
Southhold, NY 11971
631-765-0177
Coconut Tapioca
w/ Passion Fruit Sorbet and Crispy Coconut Wafers
($11)
Pastry chef Claudia Fleming's signature dish, coconut tapioca with passion fruit caramel, coconut and passion fruit sorbets, coconut wafers and basil syrup, rose to fame while she was at Gramercy Tavern. It's so popular that even though she now runs her own restaurant/bed and breakfast, The North Fork Inn, with husband Gerry Hayden, Gramercy Tavern continues to serve a rendition of this classic. Coconut tapioca is commonly found in Southeast Asian desserts, but Chef Fleming's version combines the wonderful tangy flavor of passion fruit with the rounded sweetness of coconut. The tapioca floating in coconut milk has a soft chewy quality countered by the crispness of the wafers, and the sorbets glide ever so gently on your palate before melting away. This dessert alone is reason enough to travel to North Fork, but while you're there, check out the Long Island wineries.
SCARPETTA
355 W 14th St
(8th & 9th Ave)
New York, NY 10014
212-691-0555
Coconut Panna Cotta
w/ guava soup & coconut sorbet
($11)
Scott Conant's new and much anticipated restaurant, Scarpetta, serves a coconut panna cotta that is a star even amongst so many other delicious creations. Served in a guava purée with a scoop of coconut sorbet, pastry chef Gerry Minos captures the tropical spirit. Ah, coconut and guava! It takes me back to the beaches of Hawaii. I initially thought that the panna cotta and sorbet would be redundant, but the differing textures and the light flavors of both are complementary, plus the guava soup helps to balance it all out.
NYONYA
194 Grand St
(Mulberry & Mott St)
New York, NY 10013
212-334-3669
Coconut Pudding
($7)
This is undoubtedly the most refreshing dessert I've ever tasted. Nyonya shaves off the green skin of the young coconut to create a container for the pudding. It's as fresh and light as pure coconut water, only in pudding form. Such a cooling dessert, when I had it in 94-degree weather, it actually brought my body temperature down. It's enough to share with four people, or take the leftovers home and enjoy the coconut pudding on a hot summer day!
CENDRILLON [CLOSED]
45 Mercer St
(Broome & Grand St)
New York, NY 10013
212-343-9012
Buko Pie
w/ vanilla ice cream
($8)
Buko is the juicy meat of young coconut, popularly used in Filipino cuisine. Cendrillon's buko pie (photo above) is to die for. Made in individual portions, these small pies are heated and then served à la mode with a scoop of homemade ice cream and fruit compote. It hits the spot like an exotic alternative to apple pie. The young coconut flesh inside is meaty, and there's a layer of ube (purple yam) underneath. This combination is Cendrillon's own recipe, but it will make you wonder how buko pie could have ever existed without the delicious ube.
Click here to check out how they make fresh-squeezed coconut milk at Cendrillon.
CAFÉ ASEAN
117 W 10th St
(Greenwich & 6th Ave)
New York, NY 10011
212-633-0348
Coconut Flan
w/ fresh mango
($5.50)
Café Asean is like my home kitchen since I visit weekly for comfort and homestyle Southeast Asian cooking. The menu is simple, but the food is consistently satisfying. The coconut flan is smooth, rich coconut custard served with fresh cut mangos, and fortunately it's on the menu year round. While the flan is sweet enough on its own, it's always nice to have fresh fruit to accompany, especially when it's mango!
GRAND MANNA BAKERY
212 Grand St
(Mott & Elizabeth)
New York, NY 10013
212-274-8816
Cocktail (Coconut) Bun
($0.80)
The cocktail bun originated in Hong Kong and is ubiquitous in Chinatown bakeries. A long butter roll (smooth, soft and fluffy) is stuffed with a mix of mashed buns, sugar and coconut shreds. This baked good was originally created to recycle leftover buns (similar to the origin of croutons), and the addition of coconut was to make it more flavorful. Well, it's a hit! For just 80¢, you can satisfy your hunger and sweet tooth. How can you beat that?
LASSI [CLOSED]
28 Greenwich Ave
(Charles & 10th St)
New York, NY 10011
212-675-2688
Coconut Lassi
($3.95)
As I recall, I introduced Chef Heather Carlucci-Rodriguez's creations at Lassi!) as "tummy-tickling treats," and chose the lassi as a craving. Their coconut lassi is made with coconut milk, sugar and low fat yogurt. Simple, but oh-so tasty! Both the yogurt and the coconut act as cooling agents, while the sweetness supplies a burst of energy. Be careful though: it's hard to go into the restaurant for just a lassi, as the alluring aroma of Indian food will get you every time.
BATCH [CLOSED]
150B W 10th St
(Greenwich Ave & Waverly Pl)
New York, NY 10014
212-929-0250
Strawberry Coconut Cupcake
($2.95)
Chef Pichet Ong blends lots of Asian influenced ingredients in his creative desserts, such as the Ovaltine banana pudding. And to make sure that his cupcakes are not dull and mono-flavored, he's featuring a strawberry coconut cupcake at Batch now through the summer. Talk about complexity, it's strawberry buttercream atop coconut cupcake; there's rhubarb compote hiding inside the center of the cupcake and the dessert is garnished with crystallized violets. Made with butter and coconut flakes, the cupcake itself is much denser than most others around town. And just when I thought the strawberry frosting had taken center stage, the coconut shreds surfaced on my palate and I savored the lingering taste.
SRIPRAPHAI
64-13 39th Ave
Woodside, NY 11377
718-899-9599
Coconut Rice
($1.50)
Coconut rice is a pretty simple concept; the Thai cook their wonderful Jamsine rice in coconut milk to get a more fragrant, rich flavor. The coconut rice at Sripraphai is unrivaled in its fluffiness and vibrant aroma. It goes well with their curries (especially the green duck curry!) and other spicy treats. The rice is savory, not sweet, so it's a good substitute for regular jasmine rice when you're in the mood for a stickier rice with more flavor.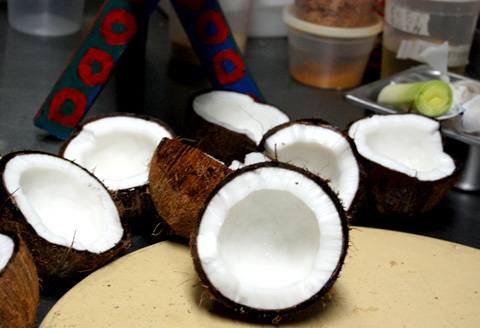 by Celia Sin-Tien Cheng
June 25, 2008
While researching coconut foods, I was invited by Amy Besa, co-owner of Filipino restaurant, Cendrillon, to learn how to make fresh-squeezed coconut milk.
Sous chef Perry Mamaril, the "coconut expert," walked me through the entire process and then showed me how to make suman (steamed rice cake) with the milk.
Coconuts are available at the West Indian grocery stores in Brooklyn. Here we see mature coconuts. Perry uses a knife to shave off the hair.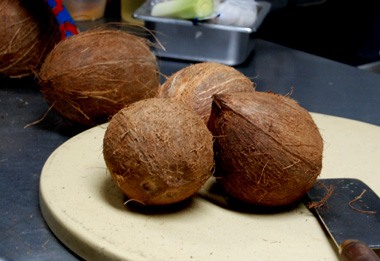 He then uses the back of the knife to strike hard the center of each coconut, until it breaks into halves. Once opened, the juice is drained.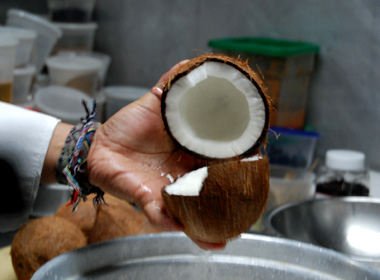 And the coconut halves are washed with water.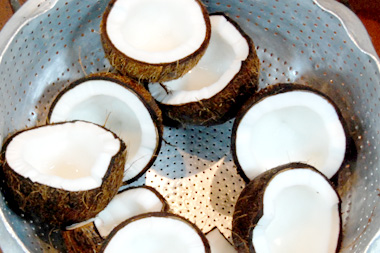 Then he sits on the "horse," which is the grater — a stool with a blade with serrated edges attached. Quite phallic!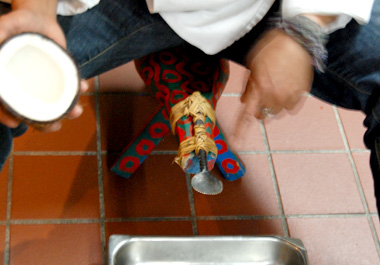 And very skillfully, he grates the coconuts by circling the coconut halves over the blade in quick, smooth motions to produce shreds of coconut meat.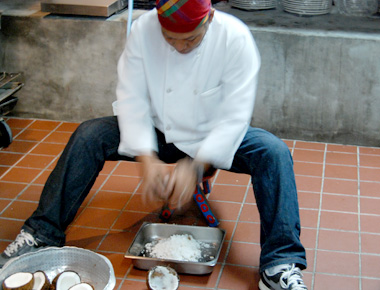 Here's the resulting pan of the snowlike shreds of four coconuts.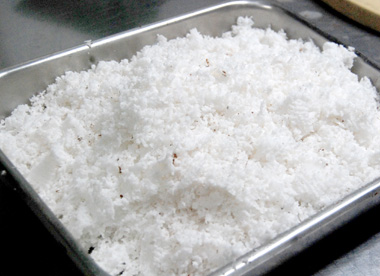 Squeezing the coconut shreds naturally produces milk (high in oil and sugar content). To create a greater volume of milk, Perry boiled water and poured it over the shreds, letting it soak for a couple of minutes before squeezing again.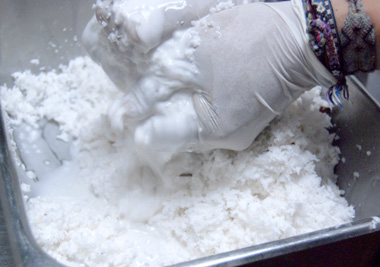 And here you have freshly squeezed, incredibly fragrant coconut milk.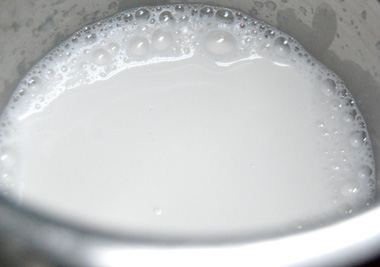 Demonstrating a dish that uses coconut milk, he made a special suman (steamed rice cake) with purple diket (glutinous) rice from the rice terraces of the Philippines. The rice is heirloom (grain passed down from one generation to another) and is grown organically and purchased at fair trade prices.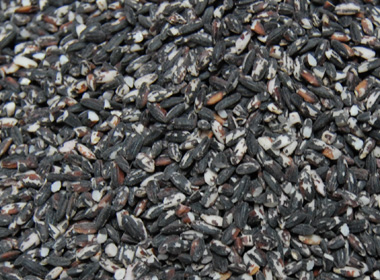 The heirloom rice is first soaked. It can be soaked overnight, but we only soaked it for about half an hour, so it would be al dente when steamed.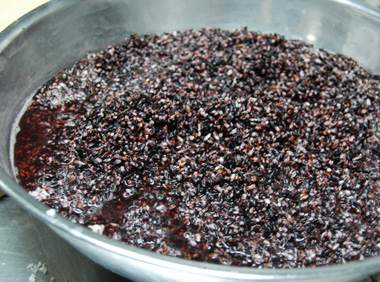 Perry first heated the fresh-squeezed coconut milk in a large wok, and then added the drained heirloom rice. He cooks until the coconut milk is completely absorbed and evaporated. The only other ingredient is coarse sea salt from the Philippines.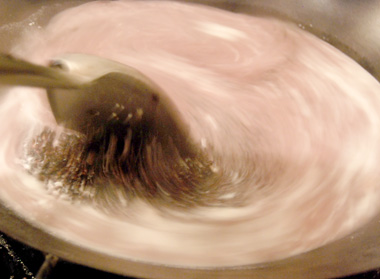 The cooked rice is then wrapped in banana leaves and steamed.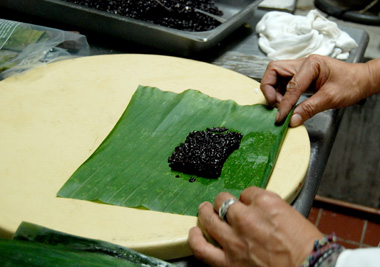 The suman is served with a sauce made from cooked coconut shreds and palm sugar. An absolute delight!