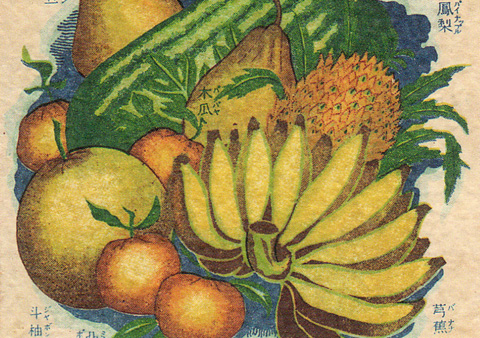 by Celia Sin-Tien Cheng
January 30, 2008
Taipei, the city where I grew up, is my home. Though I take a trip back annually, I have never mentioned this Asian city that's known for its culinary treasures. Year after year, I plan on doing a feature on my home city, but I always hesitate. Sometimes, it's hardest to present things that are closest to the heart. I fear that I won't do it justice, or that there's just too much to talk about.
Another consideration I struggle with is what type of cuisine I should talk about? It would make sense to present Taiwanese cuisine, but what is Taiwanese cuisine these days? Like all evolved food cultures, Taiwan's mishmash of different cultural influences has led it to excel in many different cuisines. There of course is the indigenous Taiwanese cuisine, which consists mainly of a variety of small dishes, or "little eats" as we say in Chinese, but to me, Taiwanese cuisine is not limited to that. Since my family is Shanghainese, I grew up eating Shanghainese cuisine, and I must say that we have excellent Shanghainese restaurants in Taipei. And to complicate things more, in recent history, Taiwan was colonized by the Japanese, so there's Japanese influence in our culture and food as well.
After two weeks of eating in Taipei, at some of my favorite restaurants, and some new ones, I found that on this trip there was really only one I wanted to share, Canoviano. It's an Italian restaurant from Japan that opened its Taipei branch in December 2007. I know this sounds as far from Taiwanese food as you can get, but it's not. Canoviano uses plenty of local produce and ingredients, so though the genre may be Italian, and the philosophy Japanese, the food is "Taiwanese."
Consequently, our Paris contributor, Everett Hutt, has written a piece titled, "No Asian Food Please, I'm American," in which on a trip to Asia, he is able to come to terms with the fact that just because it's Asia doesn't mean that only traditional Asian cuisine can be good.
A meal is worthwhile as long as it is prepared well using fresh ingredients and matching flavor profiles that work. These days, the most interesting and delicious foods, whether in New York, Tokyo, London or Taipei, use international techniques, ingredients and flavors.
And so it brings me great pleasure to start the year by introducing two articles on food in Asia, but not necessarily Asian food: "Canoviano" and "No Asian Food Please, I'm American."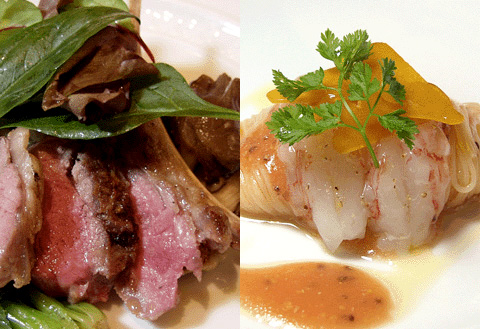 by Celia Sin-Tien Cheng
January 30, 2008
CANOVIANO
1F, No. 9-2 Section 2
Jianguo N Rd
Taipei, Taiwan
+886-2-2515-5855
Canoviano is Chef Takamasa Uetake's Italian restaurant in Japan. Since opening its doors in Tokyo's Daikanyama area in 1999, the restaurant has garnered much success and continued to open outposts in Tokyo, Kyoto, and now Taipei.
I was shocked to learn that Chef Uetake doesn't use any of the common ingredients, like butter, garlic or cream, on which Italian food relies for its flavor profiles. His philosophy, which also excludes the use of peppers, is that these flavor enhancers can cover up the fresh flavors of his natural ingredients. Instead he wants diners to smell the uncompromised aromas and taste the true goodness of the produce and food he serves. Even if you ask for pepper or salt for the table, you will be gently but firmly rebuffed, as Canoviano strictly adheres to this policy.
"Chef Uetake focuses on vegetables (be it a sauce or a whole leaf of spinach) and uses meats and garnishes to add flavor and satiate diners. Only local vegetables can provide the freshness that we insist on. We also use imported ingredients such as cheeses, meats, truffles and others that are not readily available locally," explains Canoviano Taipei's general manager, Han Lin.
Indeed, each dish was fresh, vibrant and piquant in flavor. Where other Italian restaurants' flavor profiles are that of butter, garlic, and cream, at Canoviano, I could taste the true essence and deliciousness in every bite, whether it was pasta, seafood, or vegetables.
The restaurant, which only serves prix-fixe menus, is open for lunch and dinner. For dinner, there are two tiers, a six-course Canoviano special menu for NT$ 1880 (~ $59) or a seven-course chef's choice menu, which incorporates higher quality ingredients, for NT$ 2880 (~ $90). The menu changes daily based on season and the chefs' day-to-day acquisitions at local markets. But there are some signature staples, such as the raw shrimp, bottarga and tomato sauce cappellini (photo above right).
Canoviano focuses on quality rather than quantity, so portions are small, but perfectly sized for the number of courses served. These are basically tasting portions, and each is prepared just right so that after each course, your palate is still savoring the taste of the last, but hungry for the next. And in the end, you leave feeling satisfied but not stuffed.
Japanese Italian food, if there is such a genre, is not bastardized Italian cuisine, but rather Italian food as prepared by the Japanese. Chef Uetake shared this genre with New Yorkers when he was Head Chef at Basta Pasta, which is a good example of this style of cooking. The Japanese innovate to create delicious flavors based on traditional Italian techniques and dishes. With the added layer of Canoviano's Taiwanese location, Canoviano's food is even more interesting as it incorporates as many local ingredients as possible.
While both menus are reasonably priced, my party opted for the six-course. Our menu was as follows:
Appetizer
Japanese Shima shrimp, Taiwanese bottarga with tomato sauce cappellini
Salad
Fresh Hokkaido scallops with seasonal vegetable salad
Pasta
Taitung pearl chicken with seasonal vegetable spaghetti
Soup
Taiwanese golden corn soup with fresh red drum
Entrée
American fillet mignon with morel mushroom sauce with seasonal vegetables
Dessert
Chef's choice
Italian Trombetta coffee or Taiwanese black tea from Sun Moon Lake
The meal was exquisite. Every bite of every dish was refreshing and awakened my taste buds. My favorite was the cappellini. The soft and slimy texture of the raw shrimp paired with pieces of slightly bitter bottarga balanced the tang of the tomato sauce. Using cappellini — angel hair pasta — was a great choice as the fineness of the pasta engaged every bit of the sauce, soaking up even more flavor.
What was labeled as a soup, corn soup with red drum, at first seemed it would have been more aptly called a fish course because of the piece of red drum prominently placed over two pieces of yama imo — Japanese mountain yam – and topped with fresh vegetables. But as I started to devour this dish, I realized that the soup was as delicious as the fish. I was learning from Chef Uetake that what seemed like just a companion to the fish, the soup, was actually the key to completing this dish. The fish was for substance, but the purity of the soup is what made it stand out. To get the full effect, I made sure that each spoonful included soup, fish and vegetables. Though each bite filled my spoon, it was light and clean.
Even the slices of filet mignon, the main dish, were juicy and light and did not weigh me down after I had finished.
Dessert was quite a surprise. There were five people in our party, and each was served a different dessert: black sesame tiramisu with vanilla gelato, crème caramel with coffee jelly, fresh berries in a red wine soup with earl grey gelato, caramel gelato with banana bruléed zabbaione sauce, and fruit macedonia — salad — with white wine jelly and red bean gelato. The desserts were chef's choice, and we were thrilled with the choices he had made for each of us, which speaks to how well everything is made, such that regardless of what's selected on your behalf, it is delightful.
After dinner, we had the choice of either Italian coffee or Taiwanese tea. Everyone opted for the black tea from Sun Moon Lake — the largest lake on the island and a popular tourist attraction in central Taiwan. This tea was special because while Taiwan is famous for producing Oolong tea — a green tea — local tea growers have also started cultivating black teas. The tea was as good as an English black tea, so even though we drank a Western-type tea, it was produced locally, reminding us that though our meal was Italian, the ingredients were local.
The restaurant, which occupies only one floor, boasts two-story ceilings, so even if there's a party sitting next to you, the dining room feels spacious, like you are having your own private party. The décor is modern, the atmosphere relaxing, and the clientele sophisticated. Dim lighting in the dining room helps to create this serene setting and softens the effects of the illuminated open kitchen at the back of the restaurant. The clientele, even on New Year's Eve, the night of our dinner, were not loud but rather enjoyed their meals in this easy backdrop.
The service is professional and friendly. From the minute I called to make the required reservation through the end of the meal, the staff were thorough in their explanation of how the restaurant works and what we were eating. Service was attentive but never intrusive; water and wine glasses were never empty and sometimes we didn't even notice that they had been refilled as the servers were discreet and tried not to interrupt our conversations. They made our meal the most comfortable experience possible.
I'm looking forward to visiting Canoviano on my annual Taipei trips to be wowed by the streamlined and refreshing Italian/Japanese/Taiwanese cuisine over and over again.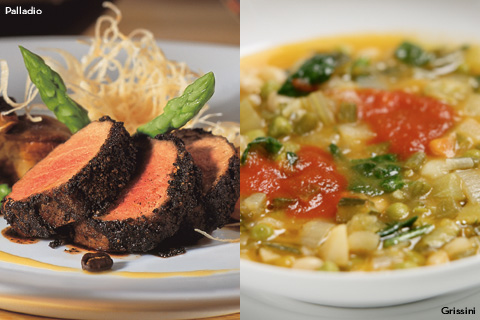 by Celia Sin-Tien Cheng
January 30, 2008
People often assume that as an American, even one living in Paris, I must be a gastronomy Neanderthal. They expect me to cringe at anything mildly adventurous and eat only hamburgers and hot dogs. Since I love many cuisines and will try just about anything, this can really be quite annoying, but it does have its advantages at times. Nothing helps to abate stereotypes and cultivate relationships, both personal and professional, like sharing a good local meal.
So I was really looking forward to eating well on a recent business trip to Asia. I had an expense account and would be dining with good friends or clients. My itinerary took me to Hong Kong, Shanghai and Singapore, three leading cities in which to taste a wide variety of Asian cooking. Yum!
Instead, I managed to go to Asia for almost a week and not eat any Asian food at all. But what I ate instead was a phenomenal menu of unexpected dishes ranging from Italian to fusion. And in the end, I learned that just as Americans are stereotyped for playing it safe where food is concerned, maybe I had been guilty of stereotyping, too. Was it possible that in the Far East, chefs might actually know how to prepare a delicious meal that isn't Asian?
I should confess right from the start that I am not an expert on Asian food. I am not someone who searches for the best Asian restaurant; I sometimes confuse types of Asian cuisines (for example, the various regional differences of Chinese cooking) and regularly forget the names of the dishes I like. But I do like Asian food enough to eat it regularly, even living in Paris with its fantastic French food around every corner. And I am adventurous; I will eat just about anything as long as it's well prepared.
So how did I miss out on good Asian food? A combination of luck, circumstances and some personal choices.
I'll start with the part I had the most control over: breakfast. I must admit that culturally, I have a difficult time with the Asian breakfast spreads laid out in hotels. Sometimes the dim sum looks appetizing in the morning, but I am never quite sure what I'm going to get. As for the various fish and rice dishes, they somehow don't feel at all appetizing at 7:00 am. I prefer to stick with fruit and toast.
Lunch was more an issue of circumstances. It was almost always on the go. Half the time, I was on a plane, where the only real choice was a mediocre sandwich or a "snack." And I wasn't even interested in looking at the Asian fast food choices in the airport. It's the same inauthentic Westernized "Asian" fast food ubiquitous back home, so why would I want to eat them here?
I did have two work lunches with colleagues. The first was in Hong Kong, but it was with Aussies. They loudly announced around lunchtime, "You're American — let's go get some sandwiches. I'm so tired of eating Chinese food all the time." I meekly agreed, groggy and jet-lagged, and munched my way through a bland turkey and lettuce on white bread. The second lunch was in the suburbs of Shanghai with Chinese colleagues. I was brimming with expectations, so you can imagine how my heart fell when my colleagues showed up with a family-size bucket of Kentucky Fried Chicken (not even the spicy recipe, but the original one). "One just opened up near the factory," my colleagues said beaming with pleasure. "We thought you would appreciate food from your own culture." Again, I smiled and meekly complied. How could I disappoint them?
Dinners were my real hope. I only had one business dinner and the rest of the time I was dining with foodie friends who have lived in Asia for years. This was where I would eat great Asian food!
My first dinner was with an American couple who have lived in Hong Kong for eight years. Dining with them in the past, I have eaten delicious Tibetan and Filipino food, in addition to great dim sum. So that night, imagine my disappointment when Alex and Jayne suggested… Italian… at the Grand Hyatt. Of course, it didn't matter that the food, wine and service at Grissini were impeccable; that the homemade minestrone soup was completely fresh and light; that the pumpkin and porcini mushroom risotto was a perfect mix of creamy and tangy; that the conversation and company were perfect. I wanted my Asian food.
My second dinner in Hong Kong was with a Cantonese friend. Prior dinners with him and his wife had led me to minuscule restaurants where eel and other delicacies had been ordered three days in advance. Delicious. This time, however, my hopes were dashed when Roger (without his lovely wife) took me to the private Kee Club on Wellington Street. The food is an original mix not just of many cuisines, but also of ingredients and styles. I ordered for a starter the "Jackson Pollack," which was an intriguing combination of vegetables and egg whites. It was sort of a mush of different colors and tastes, which somehow held all together in an odd way. It was indeed aptly named, but it was definitely not Asian (or any nationality for that matter.) The Wagyu beef was at least from Asia, but the cheese and pumpkin purée with it was straight out of France. Much to my chagrin, I had to confess, this dish was smashing. And Roger chose an excellent 2004 Volnay 1er Cru from Domaine de Montille in Burgundy to wash it all down. I may not have been eating Asian food, but I certainly was eating well in Hong Kong.
My next dinner was in Shanghai. Could I dare to expect an authentic local meal? To impress me, some Chinese clients of mine decided to "surprise" me by insisting we eat… Italian. I should've known. Palladio, located in the Portman Ritz-Carlton hotel, is undoubtedly an excellent restaurant. The ravioli stuffed with assorted mushrooms was as fresh and light as I could have wanted while the veal vitello felt as if it had been FedExed straight from Italy. The Chinese chose a French wine for dinner (a lovely 1995 Château Calon-Ségur from the Saint-Estèphe region in Bordeaux) but it was so delicious that I didn't mind the clash of cultures (European cultures, that is, since there was nothing Asian in the restaurant except for the diners and waiters).
My last chance for Asian food in Asia was a dinner in Singapore. I was again meeting an American friend, Cathryn, who has lived in Singapore for over ten years. Alas, she chose a trendy but good Australian restaurant called P.S. Café. The menu looked like something you would find in a chain fusion restaurant anywhere in the U.S., but it was done with panache. I had pasta with grilled chicken and tomatoes intelligently seasoned with Indonesian spices — at least those were Asian. The wine, a 2005 Shiraz from Massena Vineyards in the Barossa Valley, Australia, was big and bold, and paired perfectly with the food.
As I wound down my trip to Asia, I thought back on the meals I had eaten there. And what I finally came to realize was that perhaps I was being a reverse food snob. One does not need to eat only Asian food when in Asia to eat well. Indeed, I ate better Italian and Western food during my trip than I do on a regular basis at home. The moral of the story is that today you can often find good food from any region in many places around the world — as long as your eyes and mind are open to it. As proof of this, I did finally enjoy some Asian food on the trip. I ate a simple dish of sautéed beef with Chinese cabbage. It was on the Air France flight back to Paris. It was delicious.
HONG KONG
Grissini
Grand Hyatt Hong Kong
1 Harbour Road
Hong Kong, China
+852-2588-1234
Kee Club
6/F, 32 Wellington Street
Hong Kong, China
+852-2810-9000
SHANGHAI
Palladio
The Portman Ritz-Carlton, Shanghai
1376, Nanjing Xi Lu
Shanghai, 200040
China
+86-21-6279-8888
SINGAPORE
P.S. Café
28b Harding Rd
Tanglin Village (Dempsey Road)
Singapore
+65-9070-8782/+65-6479-3343