by Celia Sin-Tien Cheng
December 7, 2009
Here's a list of our favorite American artisanal chocolatiers from 2009. Clicking on the names of the chocolatiers or the images will take you to their websites.
New York

80 Thompson St
New York, NY 10012
212-334-3284
452 5th Ave (inside HSBC)
New York, NY 10018
212 525-6099
Kee Ling Tong's seamless ganache flavors make her outstanding bonbons the consistent top winner in this category. Key lime, cherry cordial or crème brûlée, Kee's Chocolates are like no other.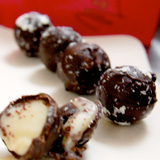 Bloomingdale's, 6th Floor
1000 Third Avenue
New York, NY 10022-1231
212-705-2347
400 East 82nd St
New York, NY 10028-5955
212-744-6289
Classic Martine's Chocolates churns out dark, milk, and white chocolates, marzipan and more. Their latest fluffy banana mousse in dark chocolate couverture is another instant classic as delicious as the chocolate mousse. Though it looks like a truffle, the banana mousse is made of fresh cream, so if not eaten immediately, it should be refrigerated. Martine advises that it be enjoyed within five days, but I say no more than two days to make sure you taste its freshness.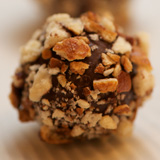 6 Extra Pl
New York, NY 10003
212-260-7103
Newcomer Bespoke Chocolates just opened in February 2009, and Rachel Zoe Insler's collection of precious truffles is conquering the City. The boutique and selection of chocolates is small but truly bespoke. The pretzel-covered sea-salted caramel is outstanding. The caramel is silky smooth, hand-rolled in a 66% cacao chocolate shell, covered in a layer of crushed preztel from Martin's Pretzels. The play on sweet and savory from the chocolate, caramel and pretzel is as balanced as the play on textures.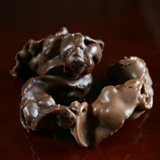 120 Essex St #11/12 Essex Street Market
New York, NY 10002
212-260-0421
Rhonda Kave's signature Pig Candy, chocolate covered bacon, at Roni-Sue is a real treat for those who love the contrast of savory and sweet and for hard-core bacon lovers.
Seattle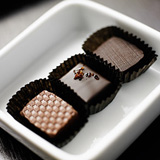 3400 Phinney Ave N
Seattle, WA 98103
206-632-5100
Joseph Whinney founded Theo Chocolate, producing premium organic and Fair Trade specialty chocolate. Theo's bonbons are exquisite. Beautifully crafted to indicate the flavors inside with a dust of fennel pollen, crushed coffee, or burnt sugar, each bite exudes the freshness of the ingredients. The peanut butter and jelly bonbon is a noteworthy adult PB&J with a layer of raspberry patê de fruit and peanut butter praline.
San Francisco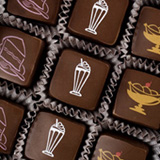 1673 Haight St
San Francisco, CA 94117
415-367-4012
Stephanie Marcon of Coco-luxe creates retro flavors reminiscent of the 50's, such as devil's food and malted milk. But the two most mind-blowing are the German chocolate and banana split truffles. These chocolates truly taste like those other desserts but packaged in a small, enticing bonbon.
Los Angeles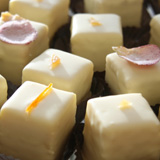 3360 West 1st St
Los Angeles, CA 90004
888-706-1408
Gift boxes from Valerie Confections make a statement. Valerie Gordon crafts chocolate-covered toffees, petits fours and confections. From their signature ivory and brown boxes to the sweets inside, Valerie speaks sophistication and high quality. You'll swoon over the shocking perfection of their petits fours, the different flavors are white or bittersweet chocolate-glazed, each with four layers of cake and three layers of luscious filling.
Minneapolis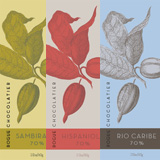 2010 E Hennepin Ave
Minneapolis, MN 55413
Rogue Chocolatier, Colin Gasko, in Minneapolis produces three single-origin 70% cacao bars: Sambirano (Madagascar), Hispaniola (Dominican Republic) and Rio Caribe (Venezuela). All three have rich, distinct flavors that reveal the cacao's terroir. Colin puts his personal tasting notes on the packaging, such as "citrus, rum raisin and toast" for the Sambirano, but every palate picks up on different nuances. So trust your senses and enjoy!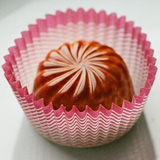 2010 E Hennepin Ave #78
Minneapolis, MN 55413
Passion fruit truffles are undoubtedly one of my favorite chocolates, and Brian McElrath's take on them has the perfect consistency, flavor and texture. Even if you're not a white chocolate fan, its presence in this bonbon is inconspicuous yet instrumental to the bonbon's ultimate perfection. The white chocolate passion fruit mousse filling is smooth and light with an invigorating piquant tartness just like the real fruit, followed by a subtle hint of orange liqueur. Dark and white chocolate combine to form a thin but glossy hard couverture that snaps crisply when bitten.
New Orleans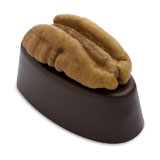 3025 Magazine St
New Orleans, LA 70115
504-708-4366
Part of Sucré's signature New Orleans Collection, Magnolia is a creamy pecan ganache encased in dark chocolate and topped with a southern pecan half. Like hand in glove, the ganache pairs seamlessly with the earthy pecan. Without any lingering aftertaste, these magnolias go down so smooth. While I like variety, I wouldn't mind a whole box of these!
For more chocolatiers, click here to check out our previous chocolate feature.