by Cynthia Sin-Yi Cheng
May 1, 2005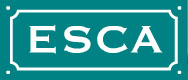 Esca
402 W 43rd St
@ 9th Ave
212-564-7272
I'm not one for specialty cocktails at Manhattan restaurants, mainly because I find them too sweet, artificial, and gimmicky. I would much rather order classics — such as a refreshing Mint Julep in the summer or a bittersweet Manhattan in colder weather—than, say, an Apple martini or another such too-cloying concoction.
Recently I pleasantly happened upon Esca's "cocktail del giorno", their Rhubarb Bellini ($8), as I was looking for something worth sharing with everyone here.
Sitting alone at the bar, I started to query bartender Gavin about how this drink is made. Suddenly he stopped a man in a white chef's uniform and asked him to explain to me how the rhubarb is prepared. I learned that the fresh fruit is juiced then mixed in with simple syrup. The rhubarb comes selectively from Richter's farm in Fife, Oregon.
By eye, a pretty blur of salmon-pink; yet the nose gives away the vegetal identity of the rhubarb — in a way that isn't all that enticing — until the taste wins you back. Surprisingly, it's not too sweet, and it's devoid of the sourness one would find in a rhubarb-apple pie, with as well no hint of tartness. This bellini is a wonderful combination of light sparkler and a savory-yet-sweet infusion of earth-grown flavors.
With a wonderful mouthfeel, this spring aperitif carries hints of grapefruit without the sharp acidity. It also has a bit of weight to it, unlike the commonly airy sparkling mixed drinks. And just at the very end a hint of tartness creeps up — adding a bit of twist and dimension!
The night I was there the prosecco being poured to make this bellini was Rivalta. After a long extended conversation with the humble but knowledgeable man in white that started with rhubarb, traveled to the Tsukiji fish market in Tokyo, Bernachon chocolatier in Lyon (Bernachon.com), and back to the drink in hand, he was urgently called back to the kitchen. Only then did Gavin tell me that this whole time I had been chatting with David Pasternack, the famous fisherman-chef-owner of Esca.