by Celia Sin-Tien Cheng
November 28, 2007
This year's recommended holiday gift list revolves around wit, simplicity, well being and goodwill. All of which bring joy to our lives.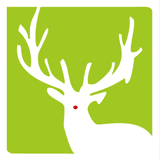 L. J. MONCHIK HOLIDAY GIFT CARDS
$8
ljmonchik.etsy.com
Designer Lauren Monchik's holiday gift cards are strikingly simple and beautiful. Touching on holiday themes through modern illustrations, some of these cards are versatile for almost all occasions. There are three collections available online: Holiday, We Get Eight Nights and 12 Days of Christmas. Each set comes with twelve different cards.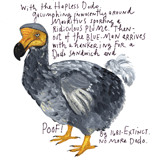 THE PRINCIPLES OF UNCERTAINTY
$30
amazon.com
Designer, illustrator and artist Maira Kalman's latest book, The Principles of Uncertainty, originally appeared as an illustrated column in the New York Times Select. After a year of blogging, the first twelve columns were published as a book of the same title. Maira, who has been a mentor and source of inspiration to me, never ceases to amaze with her whimsical ideology, illustrations and designs. She is an avid collector of objects and memories, and through her art, turns them into celebrations of life in her own idiosyncratic way. The Principles of Uncertainty is a delightful mix of images and thoughts that, though it first seems like stream-of-consciousness rambling, pays uplifting homage to all the wonderful little details in life. What a great holiday read!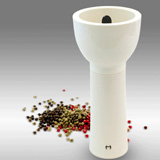 OLIVER HEMMING'S SPICEBOY
$45-$62
oliverhemming.com
Meg Cohen Design Shop
59 Thompson St
(Spring & Broome St)
New York, NY 10012
917-805-0189
British designer Oliver Hemming's SpiceBoy spice grinder, like all well designed products, is not only functional and easy to use; it's also a sleek, modern object. In addition to its function as a regular salt, pepper or spice grinder, SpiceBoy can be used for specific recipes or special spice mixtures. It's available online through the Oliver Hemming website or for about 20% less at Meg Cohen's Design Shop in SoHo. She carries them in red, white and black.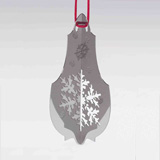 2007 BACCARAT UNICEF SNOWFLAKE ORNAMENT
$95
unicefusa.org
Baccarat
625 Madison Ave
(58th & 59th St)
New York, NY 10022
212-826-4100
The UNICEF snowflake, made from Baccarat crystals, hangs magnificently as an outdoor chandelier at the intersection of 57th Street and 5th Avenue. A holiday tradition for over 20 years, the annual lighting of the snowflake marks the beginning of the season. Each year, Baccarat creates limited edition snowflake ornaments in honor of the UNICEF snowflake. Twenty percent of the proceeds from this year's ornament, a three-dimensional stainless steel die-cut rendering of the UNICEF snowflake, will be donated to UNICEF.
ALICE WATERS' THE ART OF SIMPLE FOOD
$35
amazon.com
Alice Waters, famed chef of Chez Panisse, revolutionized American cuisine as we know it. Through her Slow Food tenets, she has helped promote our values and well being through good cooking for over thirty years. The Art of Simple Food is her first book for the home kitchen, and it is fabulous! It's not just great for beginner cooks, but it should be required reading in schools for children! As the title suggests, everything is broken down into simple terms, from her basic cooking philosophies and pantry-stocking to basic kitchen equipment and cutting techniques, in addition to over 200 everyday recipes. The book is well organized and executed, with gorgeous illustrations by Patricia Curtan. It's an instant cookbook classic.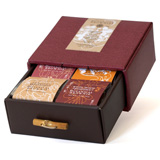 AMAI TEA & BAKE SHOP GIFT BOXES
$15 – $42
amainyc.com
Amai [CLOSED]
171 3rd Avenue
(16th & 17th St)
New York, NY 10003
212-863-9630
Amai finally opened its first store in the Gramercy-area about a month ago, and we are so thankful! The shop is small but cozy and a great place to enjoy some delectable sweets while taking a breather. In addition to our favorite tea sweets (cookies), there are also brownies, puddings and a new green tea cupcake. And of course, there's tea to go with each! Their gift boxes make beautiful presents! Plus it's easy to order directly from their website.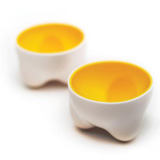 DESIGN GLUT EGG PANTS
$20, set of two
designglut.com
I'm so tickled by these egg cups by Design Glut, I'm beside myself. Witty, cute and useful, Egg Pants not only hold your boiled eggs; they give them a sense of humor, too! With three legs to stand on, Egg Pants are made from a flexible material that can stretch and mold to hold any size or shape egg. Egg Pants make your breakfast more enjoyable and entertaining!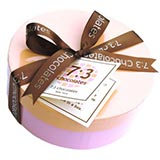 CHOCOLATES
And of course there's always the gift of chocolates. Check out our chocolatier feature for an extensive list of thirty-four artisanal chocolatiers in the City. Make sure to click on and and to see the full list.
For more ideas, check out .