by Celia Sin-Tien Cheng
May 1, 2006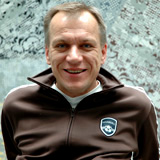 CRAVINGS
Steak au poivre
Raoul's
Uni (sea urchin)
Jewel Bako
Sachertorte (chocolate cake)
Café Sabarsky
I must admit, of all the people I've interviewed, Kurt Gutenbrunner (KG) was the most intimidating — before I met him, that is. For some reason, I had the impression that he was very stern and maybe a little difficult to approach. I had built this image around him based on the portrait of him by Julian Schnabel that hangs on the wall at Wallsé and watching him meticulously supervise the dinner service at both Thor* and Blaue Gans when they opened last year. He always looks so serious. And he's the chef of Wallsé — one of my great loves! Well, he is very serious about his work, and you can tell from his cuisine that he is an absolute perfectionist, but the reality is that this man is adorably outgoing and fun-loving. He's fully aware of his "rock star" celebrity chef status, but he carries it with ease when you speak with him.
Kurt has brought New York City the best of Austrian cuisine, but more than that, he's brought us "KG" cuisine. In 2000, he opened Wallsé, serving predominantly the traditional Austrian cuisine people expected but with a flair of modernity. The restaurant is gorgeous with a minimalist décor paying homage to the simplicity and tradition of Art Nouveau and Austrian architects and designers like Otto Wagner, Adolf Loos and Josef Hoffman. In 2001, Ronald Lauder and Renée Price of the Neue Galerie approached Kurt to develop what is now Café Sabarsky, a classic Viennese café in the museum. Café Sabarsky serves the best pastries in town, in my opinion, but I also adore the spaetzle, a must before getting a slice of cake. The food is irresistibly good and this venture helped change the way people think about museum restaurants.
With Thor, the restaurant in The Hotel on Rivington, Kurt's been able to depart from the classics, taking his central European cuisine and giving it more personality. He has more freedom to have fun. As he describes it, he gave people what they expected, like he did all his homework right, and now he can play and go a little crazy. So he considers Thor to be 90 percent KG food and 10 percent European cuisine (while Wallsé would be more 60 percent classics to 40 percent KG food). Thor is really a reflection of who he is now and less of where he came from. I consider it Austrian-influenced American cuisine. Kurt's a true New Yorker and the food at Thor is your quintessential New York cuisine. It's unique and dynamic.
In the midst of some personal adversities in 2005, he opened Thor and Blaue Gans both within the same year. He found it important to express himself during the most painful period in his life. Having overcome the hardships he faced, he realizes that what did not break him has made him stronger. He was able to take all his energy to put himself into these two new restaurants. Blaue Gans showcases the foods that he wanted to cook but couldn't at Wallsé because it was of a different genre. The restaurant serves Austro-German pub fare and is stylistically more casual, with a no-reservations policy. It's a neighborhood joint Kurt conceived where family and friends can stop in for a casual gathering, as he does himself.
A true family man, the most important thing in Kurt's life is his kids — he has a son and three daughters. I'm not sure how he does it but he devotes 50 percent of his time to his children. In addition to managing four restaurants, he has numerous projects in mind. A book on Wallsé, featuring food and wines of Austria, and a Café Sabarsky cookbook seem imminent, but he would most love to create a children's cookbook based on a character he calls "Lulu the Spoon," inspired by his youngest daughter. It would target first graders as a first reading book. I may not be in first grade anymore, but that book would be at the top of my reading list.
Kurt has so much positive energy that just by chatting with him, I feel like I can do anything. He loves New York because it's a place where if you have talent and an idea, someone will tell you, "Let's do it!" He's driven to be the best at what he does, and he is acutely aware of all the competition that is out there. He knows that he must be better than everyone else in order to stay on top. And to do that, he puts his heart and soul into the food to bring people to his restaurants. Making his customers happy ultimately brings him happiness too.
Speaking of happiness, in response to my assignment, Kurt tells me that it really doesn't matter whether what he makes is on or off the menu. The most important thing is to do what makes you happy, whether it's normal, crazy, simple or classic. He feels lucky because a lot of people are unable to express themselves and can't be creative — they cook to make a living, but whether they are passionate about food or not, it's just a job. It's important to surround yourself with the right teachers and attitude, and he encourages all those who work for him to learn as much as they can from him and achieve their own successes.
An afternoon talk with KG, some tea and a plate of sweets later, I'm filled with optimism, feeling like I can do anything. And no, it wasn't from the sugar high. After all, Kurt ate most of the sweets. ;)
Note: Since the publication of this feature, Kurt Gutenbrunner has left Thor and is focusing on his other restaurants — August 2006.
by Celia Sin-Tien Cheng
May 1, 2006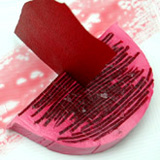 RED BEET TERRINE W/ HORSERADISH, FRESH GOAT CHEESE & ORGANIC BEET
My initial reaction to this terrine is that it's absolutely gorgeous! This is a good representation of KG cuisine, as the artistic composition is always essential to the final masterpiece. Even the final touch of adding a thinly slivered beet chip, standing vertically from the terrine, is so sculpturesque and beautiful. The terrine itself, made from a mixture of horseradish, goat cheese and beets, is refreshingly light and creamy. The layering of sliced beets within the terrine gives it a visually stimulating effect. The combination of sliced beets and creamy terrine produces a surprising and contrasting sensation of smooth and hard textures. It's all about sensations. After all, this is kind of like a mille-feuille, multi-layered so that your mouth feels both the hard and soft. And it's oh-so-delightful!
by Celia Sin-Tien Cheng
May 1, 2006
344 W 11th St
(Greenwich & Washington St)
New York, NY 10014
212-352-2300
map
Café Sabarsky
1048 5th Ave
@ 86 St
New York, NY 10028
212-288-0665
map
Blaue Gans
139 Duane St
(W Bway & Church St)
New York, NY 10013
212-352-2300
map