by Celia Sin-Tien Cheng
May 17, 2005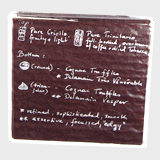 Ortrud Münch Carstens is not a household name, nor does she want to be. There is an air of complete mystery surrounding this chocolatier. From her name to her difficult-to-find chocolates, I was consumed with intrigue and fascination.
Ortrud's chocolates can only be special ordered through Gotham Garden, an exquisitely high-end florist on the Upper West Side. She has been crafting and designing chocolates in small quantities since 1987. Her artistry and dedication to using only the finest and rarest ingredients make her chocolates unique. She is making chocolates for those who appreciate her taste and sensibility. Once you place an order, depending on her schedule, you should receive a call within one or two weeks, when the box of chocolates is ready. The selection is also entirely up to her, depending on what she feels is appropriate at the time. I must admit I loved the expectation and build up; the anticipation of waiting for the chocolates, not only to taste them but also to find out what the selection would be. In New York City we thrive on the eccentric and want more than anything what we can't have. Ortrud has that winning combo, not to mention some of the best chocolates in town. Her Cognac truffles are intoxicating, but even before you taste them, you have already fallen under her spell. The best part about it is that the final product exceeded my expectation. The box of chocolates I received was personalized for me and completely worth the wait.
Click here to read about our craving from Ortrud Munch Castens.