by Celia Sin-Tien Cheng
May 6, 2010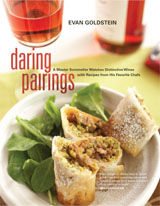 Daring Pairings
by Evan Goldstein
(University of California Press, 2010)
$34.95
Good food and wine pairing can create a harmony of flavors. My palate for wine depends on what I'm eating. A wine I may love on its own could easily get lost in or drown out my meal, so I've found Master Sommelier Evan Goldstein's latest book, Daring Pairings: A Master Sommelier Matches Distinctive Wines with Recipes from His Favorite Chefs, to be an informative and fun read.
In Daring Pairings, Goldstein pairs wines from 36 grape varietals with the recipes that 36 star chefs have tailored to match. This down-to-earth guide also offers advice on crafting wine and food pairings, selecting wines for everyday and special occasions, and choosing producers and importers.
I'm sharing the recipe suggested for pairing with Verdejo: David Kinch's shrimp tartine with fava bean, almond and mint pesto. On a side note, congratulations to Chef Kinch, winner of the James Beard Foundation Award for Best Chef in the Pacific, announced this week!
SHRIMP TARTINE WITH FAVA BEAN, ALMOND, AND MINT PESTO
David Kinch
Manresa Restaurant
Los Gatos, California
Makes 6 first-course servings
Fava bean, almond, and mint pesto
1 cup shelled young fava beans (about 50, from 1 pound unshelled)
1 clove garlic
10 fresh mint leaves
Sea salt and freshly ground black pepper
1 olive oil–packed anchovy fillet, finely chopped
10 almonds, lightly toasted and salted
3 tablespoons grated Parmigiano-Reggiano cheese
About 1⁄2 cup extra virgin olive oil
Few drops of fresh lemon juice (optional)
36 large shrimp in the shell (11⁄2 to 2 pounds)
12 slices coarse country bread, toasted, preferably over a wood fire
Extra virgin olive oil for drizzling
Freshly ground black pepper
First, make the pesto, which is best started in a mortar and finished in a food processor. If you don't have a mortar, a food processor can be used for the whole process. Bring a saucepan filled with salted water to a boil. Add the fava beans and blanch for about 30 seconds. Drain immediately and immerse in cold water to cool completely. Squeeze each bean to free it from its tough outer skin. Set aside. (This can be done up to 1 day in advance; cover and refrigerate until needed.)
Using a mortar and pestle, crush together the garlic, mint, and a pinch of salt until a rough purée forms. Add the anchovy, followed by the almonds and continue to crush and pound the ingredients until a paste forms, then transfer to a food processor. If you don't have a mortar and pestle, combine the garlic, mint, anchovy, almonds, and pinch of sea salt in a food processor and pulse until coarsely chopped. If the chopping is labored, add 1 tablespoon of the olive oil.
Add the fava beans to the processor and pulse until well combined but some texture remains. Be careful not to overwork the mixture, as you want it to have some texture. Add the cheese and pulse until well mixed. Then, with the motor running, very slowly add the olive oil in a fine stream until the mixture is the consistency of a pesto. Season with salt and the lemon juice, transfer to bowl, and set aside.
Bring a large saucepan of salted water to a boil. Drop in the shrimp, then immediately remove the pan from the heat, cover the pan, and let stand until the shrimp turn pink and are opaque throughout, 3 to 5 minutes. Drain the shrimp in a colander, and peel and devein while still warm.
To assemble, spread each slice of toasted bread with a generous amount of the pesto and top with 3 warm shrimp. Drizzle with a little olive oil, and then top with a grind or two of pepper. Arrange on a platter or individual plates and serve at once.