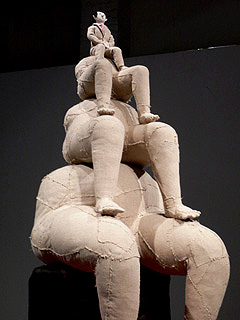 by Cynthia Sin-Yi Cheng
June 1, 2006
Shanghai is the origin of my roots despite my not having grown up there. It is my father's culture and homeland. Shanghainese cuisine is what Celia and I grew up eating in Taiwan and Shanghainese dialect is amongst the first languages I grew up listening to (although regrettably one I never picked up). So when my parents started living there part-time three years ago, I began discovering a city that was at once brand new yet so uncannily familiar to me.
Each of my visits is unique. The first two were filled with awe. I saw only the good and the better, the impressive and the more impressive. I wanted to capture the essence of the nostalgic colonial past and linger in it by repeated strolls up and down the tree-lined streets of the French Concession. It hit home that with its Sino-Franco sub-community, which evolved from a strong French presence dating from the concession days, this is the city of my dreams. (More details about my Francophile background in the May Paris feature.) On my third trip, I noticed the backwardness, the abandoned housing, the rude service, the poverty and more stark realities of a city that is outperforming expectations on the surface but maybe not quite so in infrastructure. Subsequent trips have all had their own flavors, balancing the good and the bad but definitely leaving me with more honest impressions.
I just got back this month from a weeklong stay researching a travel piece on this "city of the moment" everyone is talking about, writing about and booking flights to.
Here are some discoveries I would like to share.
Note: The Chinese restaurants I recommend serve superb food but might not have the spiffiest décor or a menu in English (not to mention an English-speaking waitstaff). Try these places if you want to taste some authentic and delectable local cuisine. My advice is either to be adventurous and order from what you see other tables are having or to simply bring along a Chinese speaker.
To eat & drink:
1. Xing Fu 131 (No. 131, Xingfu Lu; +86-21-5254-0505)
This restaurant is so new it is still brainstorming on an English name. The owner, Silver Ma, told me she didn't want a banal, direct translation of the two-character Chinese name, "xing fu," which literally means "happiness." For those who like the sensation of spicy food that numbs, you'll find happiness certainly abounds here. This is Sichuan cuisine from the city of Chungking, a rarity in Shanghai. If you go, ask for Silver, who is there nightly. Otherwise, the Chinese-only menu is short and manageable. You really can't go wrong. My favorite dish was the shrimp with hot peppers.
2. Xing Guang (No. 512, Tianjin Lu; +86-21-6322-3978)
An address for crab lovers. I was invited by a true connoisseur of all the better things in life. We started with the drunken crab. While I usually indulge in everything raw, the taste and texture of this cold dish of crab soaked in yellow wine didn't do much for me. But the subsequent four courses, all made with the different parts of cooked crab, were pretty deliciously decadent. The natural pairing with this meal was Shaoxing wine served in a shot glass with a preserved plum.
3. Chun (124 Jinxian Lu; +86-21-6256-0301)
My favorite homestyle Shanghainese joint in town. The owner is also the cook. She just whips up whatever is the freshest produce of the day. You can go through the daily specials with her verbally, or just ask her to put together a selection for your table. She is open for both lunch and dinner, but a reservation is a must at this four-table "hole in the wall." I vouch for everything, but ask for the snails to start with (minced pork and snail meat, mixed with spice, is reinserted and cooked in the shell; you'll need a toothpick to enjoy this dish, but it's totally worth the extra work). Feel free to bring your own wine for a real feast!
4. Colours (Villa 11, Ruijin Guest House, 118 Ruijin Er Lu; +86-21-5466-0159)
Inside the majestic Ruijin Guest House complex, Colours has a stunning terrace over a man-made lake. Stately old pine trees abound. The setting took me back to my days in Kyoto. While away the afternoon here with a good tome or a dear chum. Then, check out the rest of the Ruijin complex with its immense gardens and colonial-period villas.
5. Red Door (798 Zhaojiabang Lu; +86-21-6473-8607)
My favorite noodle house. There is a long list of noodle dishes, my craving being the "lion head" (lion head = a giant pork meatball). This is casual food made with care and without MSG or excessive oil (not an easy thing to avoid in Shanghai eateries). You can order many small appetizer dishes to share, then your own noodle. Insist on sitting in one of the private alcoves for four people. The complimentary chrysanthemum tea and the red-bean ricecake dessert are just the right touches to start and end a meal here.
To read:
1. Garden Books (325 Changle Lu; +86-21-5404-8729)
A good address to pick up some books in English on the history, architecture, culture and current trends of Shanghai.
2. Shanghai Living by Hu Yang (2005) (available at Garden Books)
From a photo collection of 500 Shanghai citizens in their homes, this exhibition catalogue showcases a selection of subjects from all different vocations. It ranges from a vendor's tight quarter — squeezing in three kids in the top bunker while the husband, wife and a baby share the bottom bunker — to a Chinese-American brand consultant's spacious modern loft. There is definitely a voyeuristic theme underlying the premise of this book, as it exposes people in their natural living habitats. I confessed it fed my curiosity. Where else would one be able get a glimpse of so many Shanghai denizens' modes of living?
3. Shanghaiist
An offshoot of the popular New York blog, Gothamist, this website provides some good social commentaries on life in China, in particular about Shanghai. A good read for the feel of the city from the expat viewpoint.
---
P.S. Back in New York, in the backdrop of the newly re-opened glass-encased Morgan Library, I tasted a refreshing and eye-catching cocktail. Here is how you can concoct it at your next summer mixer (FYI: I had about six in a row!):
Air France and KLM 60th-Anniversary Cocktail
1.5 oz vanilla vodka
4 oz mango juice
1 oz simple syrup*
0.5 oz fresh lime juice
0.5 oz heavy cream (or half and half)
1 oz Chambord
0.5 oz Chambord for decoration (optional)
*Simple syrup: in a medium saucepan, combine 1 cup white sugar and 1 cup water. Bring to a boil, stirring, until sugar has dissolved. Allow to cool.
Shake ingredients (except Chambord) vigorously with ice.
Pour into flared fluted glass.
Quickly shoot a syringe-full of Chambord straight into the bottom of the glass
Use syringe filled with Chambord to decorate in the froth of the cocktail.
by Cynthia Sin-Yi Cheng
June 1, 2006
WORKS FROM JI WENYU EXHIBIT
AT H-SPACE (PART OF SHANGHART) IN SHANGHAI
JUNE 3 – JULY 3, 2006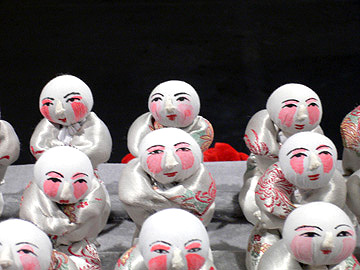 BROUGHT FIVE CHIDLEREN INTO THE WORLD
Ji Wenyu (b.1959)
Ji Wenyu and Zhu Weibing (soft sculptures)
Sculptures – plush, cloth, insulative packingmaterials, carpet
2005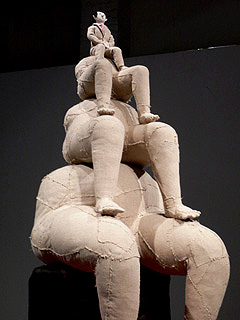 TOP
Ji Wenyu (b.1959)
Sculptures – Linen, insulative packing materials, wood, latex
2006
75 × 54 × 127 cm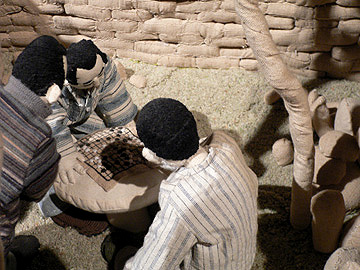 WALL
Ji Wenyu (b.1959)
Sculptures – linen, iron, wood, cotton, latex
2005
76 × 66 × 110 cm
EAT MORE FRUIT AND GET MORE NUTRITION
Ji Wenyu (b.1959)
Oil/Acrylic on Canvas
2005
114 × 146 cm